Fresh New Start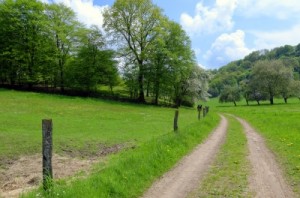 image courtesy of Dan/freedigitalphotos.net
The Blog Was Born
This whole journey started when my husband wanted me to keep a journal of all the silly and crazy things the kiddos said during the day. I grabbed myself a notebook and started scribbling away. Them and their crazy selves gave me excellent material to write about.
Then it hit me one day. Why don't I start a small blog? This allowed my family and friends a window into our lives. I have been opening the door wide to let people in on this imperfect, crazy, messy life we live.
As I have been writing I have noticed that my post of babies throwing food was slowly starting to shift into encouragement and real life momma stuff. It has been a lot more from the heart than I intended. I never thought I would find myself loving the whole, 'Blogging thing," so much. I am enjoying the community, friendships, and writing about the things I love and am passionate about. By God's hand, this little blog of mine has started to grow.
The Name
With that being said, I am moving on from my blog, "The Good Life," and am starting fresh with a new blog. Welcome to Sweet Country Roots. This name represents what I am trying to accomplish with my family. I long for sweet moments and sweet memories amongst chaos. I want to mimic the slow-paced life of the past that I admire. My desire is to bring that back and get my family back to our country roots.
My Passion

My passion is to show Mommas how sweet this life can be when God is in the center. When we can let go of the world's expectations and get back to our country roots and wait for God expectantly. He will not only provide, but will abundantly. My GOAL more than anything is to minister the way that I have been ministered to. I am so thankful for all of the wonderful things God has taught me through reading other encouraging blogs. I hope to share all that God has placed on my heart in hopes I can bring the same encouragement to someone else.
Let's walk this road together! Subscribe, or follow on facebook and pinterest!
P.S. Ya'll hang in there with me. I'm saving money to make the blog pretty as well:)
I'm sharing this with: A Mama's story, Raising Arrows, The better Mom, The Modest Mom, What Joy is Mine, Far Above Rubies, Growing Home, Heavenly Homemakers, Time Warp Wife, Thankful Homemaker, Mamal Diane, and Teaching What is Good,
6 Responses to Fresh New Start