5 Simple ways to save at the grocery store (without coupons)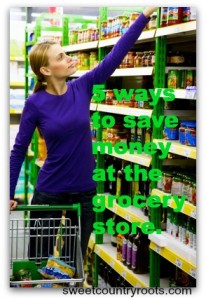 Photo courtesy of Ambro / Freedigitalphotos.net
The battle of the grocery store is one I have been fighting ever since I became a wife and mother. No mater how hard I tried or how many coupons I clipped I was always over budget. Every week I would leave feeling defeated and aggravated. In a silly way I felt tricked by their advertisements.
I no longer search for coupons since my family and I have significantly cut back on our processed foods. Besides, I usually bought more when I cut coupons anyway. With couponing aside, I knew I had to get control of our grocery budget and start telling my money where to go instead of leaving it to chance every week. I've got better stuff to spend my money on:)
First and foremost I never go without a list. I do my very best to stick to it. I've also found it helpful to shop at the same place. When I go to new stores I am usually  intrigued and end up spending more. This is especially true when your kids are with you. I usually end up grabbing something I didn't intend on getting. With my list I'm ready to conquer this monster.
Tip #1 Rice and beans or beans and rice
I am a huge fan of these kitchen staples. Not only are they slammed with health benefits but they are dirt cheap and easily bought in bulk. They fill hungry bellies very well and go a long way. There are a gazillion awesome recipes on the internet. One of our favorite simple meals is pinto beans slow cooked all day with homemade slaw and my whole wheat cornbread. On the next night I take the leftover pintos and stir them in with rice and spices to make a stir fry or filler for burritos. Another favorite at our house is a big roast with vegetables and potatoes. The next night I mix the leftover roast with rice for a stew. It's all about getting creative and seeing how far you can stretch any meal. It's quite fun when you start to get into it.
Tip #2 No  Juice
I finally bit the bullet and quit buying juice for the kids. One jug of apple juice ran me about 5$. I had to buy two a week. Not only do I have a money savings of 40$ a month but a slew of health benefits as well. First and foremost they aren't driving me crazy asking for juice every ten seconds. If they are thirsty then they are all able to get themselves water out of the fridge. Secondly, it's better for their teeth and health. My kids get enough sugar from cookies and popsicles. They don't need it from their drinks as well.
Tip #3 Meatless Monday
We are in no way vegetarian but we have significantly cut back on our meat consumption. We have replaced a lot of our meat with tip #1 (the rice and beans.) This has saved us a tremendous amount of money. If your used to having your meat at every meal then maybe  you could start with a meatless Monday. For the first time this year we purchased a 1/4 of a cow from a farm and had it butchered and frozen. I love having the stockpile in my freezer. I highly recommend it and am hoping to do the same with pork and chicken. Maybe even our own animals one day soon:)
Tip  #4 Homemade
Try making your own snacks. Do your kids love cookies? Make you a big batch of oatmeal raisin at the beginning of the week. Trail mixes or granola can be eaten any time of day. Eat it dry, on top of yogurt, or with milk for cereal. Peanut butter and apples or veggies and ranch are also simple cheap snacks. Try to stay away from anything in a box even if it's on sale. Take granola bars for example. There are probably six – eight in the box. Instead, you could make a fresh batch that would be double or triple in amount. Your granola bars would taste better and be better for you, no comparison.
Tip #5 Stock up
You better bet when I see noodles, rice, coffee, or beans on sale I stock  up. Those weeks at the grocery store may be slightly higher but the next week will be lower than usual. You have to educate yourself on a true deal. I fallen victim to this myself by looking at the pretty advertisements instead of doing my math.
I am always learning and tweaking any grocery store strategies. Does any one have any ideas?
Shared this post with:The Prairie Homestead,  A Mama's story, Raising Arrows, The better Mom, The Modest Mom, What Joy is Mine, Far Above Rubies, Growing Home, Heavenly Homemakers, Time Warp Wife, Thankful Homemaker, Mamal Diane, Teaching What is Good,  A cat like curiosity, Mom's the word, conerstone cofessions, A proverbs 31 wife, Some of the best things in life are mistakes, Let this mind be in you, A Wise Woman Builds her home, CSAHM Parenting Linkup, Deep Roots at Home, Graced Simplicity, Raising Homemakers, Women Living Well, Hope in Every Season, Jill's Home remedies, Little Natural Cottage, Our simple country Life, Raising Mighty Arrows, The Purposeful Mom, Consider the Lillies, Happy and Blessed Home, Homemaker by Choice, Your Thriving Family, My Joy Filled Life. New Life Steward, Hometead simple, Christian Mommy Blogger,  Heart Reflected, Mrs. Happy Homemaker, Keeping It Simple, The Life of Faith, The Alabaster Jar, Splashing Glory, The wellspring, Road to 31
16 Responses to 5 Simple ways to save at the grocery store (without coupons)