Disease of Perfection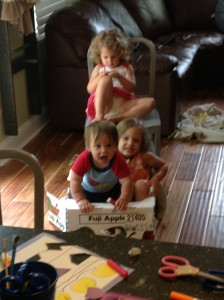 Ever feel like your in a whirlwind of perfection everywhere? I just don't understand why all of the kid's craft pins on Pinterest have sparkling clean kitchen in the background with a toddler holding a sparkly paper towel roll with pipe cleaners sticking out of it. Y'all know you've seen stuff like this. And if your honest with yourself, like me, you sometimes think, "Dang, I need to be doing that! Why can't I get myself together enough to have a sparkling clean house filled with sweet crafts from all my children?"
I'm just not convinced that mamas back then had it this tough. Perfection is thrown in our face. Even we ourselves can hide behind our precious Facebook pictures and clever status updates. I don't know about y'all but I'm ready to be REAL! I don't have it all together, not even close.
I don't post in detail about my day often because it would look something like this… My Morning: Today I sprung out of bed and went downstairs as quickly as possible, excited beyond belief to spend some time with God?? Nope! Y'all, it's to be by myself with my coffee! (I know that is terrible…I'm jut being real here.) About five minutes later I hear little footsteps so I roll my eyes, then automatically feel guilty because I know one day I will miss this. I cuddle with her for a few minutes till I fix her breakfast, then start to clean the kitchen from the night before, mad at myself the entire time that I did that again… I start to hear the other ones wake up so I load the dishwasher as quickly as I can because the baby likes to climb in it.
See what I mean?? I'm thinking I'm not the only one who has mornings like this. (I hope not)
Let's take the mask off mamas and start being real. We need each other. Let's talk and blog about how we sat in our messy kitchens and read to unbathed children in pajamas. Let's stop pretending that we have it all together, because we don't, and we never will. They are raising us just as much as we are raising them. Today I'm boycotting perfection and I'm gonna wrap my arms around God's grace and my stinky children and enjoy every moment.
Are ya with me? Subscribe and share what you are boycotting today!
19 Responses to Disease of Perfection