Simple, Sensational, Frugal Recipe
Alright, the ingredients together for this recipe may sound strange, but believe me that this combination of flavors are fantastic together. My husband actually discovered this recipe at the fire station from one of the other guys who was, Throwing stuff together." We like to call it Black Bean Pileup.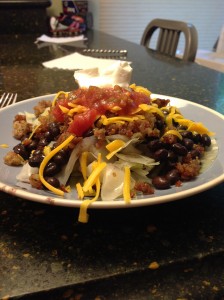 Ingredients:
Breakfast sausage
Cabbage
Black beans
Cheese, Sour cream, and Salsa
– Start by browning your sausage in a separate pan, while your cabbage is boiling in another pot. You can use dried black beans you've had simmering all day or simply open up a can and rewarm.
– Once all necessary ingredients are cooked simply pile um up!
We like to do cabbage, sausage, beans, shredded cheese, then a dollop of sour cream.
Hope y'all enjoy! It's DELICIOUS!
One Response to Simple, Sensational, Frugal Recipe