Peanut Butter Chocolate Chip Granola
This recipe is one of my families favorites. I have given this as part of birthday gift, Christmas gifts, and have also given it to a new momma. It looks so enticing in a mason jar with a cute ribbon on the lid. We usually have this granola as our cereal in the morning. Other options include using it as a topping on your yogurt, pancakes, or even just eat the stuff plain. It is much cheaper than store bought granola and taste delicious!
Yall, this is so easy…
Melt together
5 TBS butter
3 TBS coconut oil
3/4 cup of crunchy peanut butter
3/4 cup brown sugar
1/4-1/2 cup of honey
1 TSP of vanilla
Pour over 5 cups of oatmeal in a greased casserole dish and stir well.
Bake at 350 degrees for 15 minutes, stir a bit, then put in another 10 minutes.
Once it has completely cooled add in some mini chocolate chips. Or… you could be like us and get yourself a small bowl while its warm and let the chocolate melt in the granola. At the end you've got you some good old chocolate milk when your cereal bowl is empty:)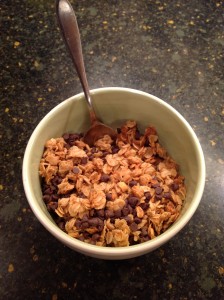 2 Responses to Peanut Butter Chocolate Chip Granola