Learning to Love Distractions
So the other day I had the opportunity to have 3 hours all by myself at home, not one kiddo was with me. Man, did I get a ton of stuff done! I was able to get all of my tutor stuff together to meet with our home school group the next day. I emptied the dishwasher, reloaded it, took out the trash, put away folded laundry, ate some snacks, and even had supper cooking when everyone returned. Honestly, I felt more accomplished than I had in awhile. I had on clothes without food all over them, my hair was down and brushed, and my home was neat and orderly.
During all of the busyness to cross off my to to do list I caught myself thinking, "This is awesome! All I need is maybe once a week of this and I might could stay on top things." I immediately felt convicted. It's funny how God will give you what you think you need only to reveal your sinful nature, and show us what we REALLY need.Why is it that my perception of accomplishment involves no clutter? If I really think about it, the days I truly accomplish the work God has set before me, and do it well you will find me with more stains on my shirt to count, hair in a messy pony tail, markers and coloring books covering the table, and my kitchen spices all over the kitchen floor. All the kids stink from rolling around outside in the dirt, but they are laughing and dancing when Daddy comes home. This day to day life of children scattered at my feet as I try to manage our home is an example of Jesus and His love. If I am by myself then no one is learning, not even me. When Jesus was on this earth He faced distraction after distraction as He was trying to disciple people for His kingdom. On one occasion He was on His way to heal someone on their death bed, when a woman stopped and pulled on His robe to get His attention. He stopped, and gave her healing and love. On another occasion children were even running up to Him as He was doing what most would consider more important work. Jesus recognized the importance and saw that these were God ordained situations to share His love. Even His disciples were trying to push them away but Jesus said, "Let the little children come to me." Yes, these kids can be a distraction…or is it all the other things that are the true distraction???
The relationships we are forming and our perspective on distractions that mess up our routine have the chance to be life altering, and world changing. To look at these children in the eye and let them know that they truly matter, are loved, and that I have their best interest. I'll do great for awhile, then the girl who wants to pretend she's perfect creeps back in and wants the laundry caught up, with spotless floors. I am slowly realizing that at times this can be accomplished, but it is not reality on a day to day basis. There are children who need to be cuddled, read to, pushed on the swing, bathed, fed, and basically just need their momma's love. In this stage of life with another sweet one on the way, and God willing more in the future, I will be in this stage for quite awhile. When I can drop my need for perfection is when God brings in the true freedom and the joy of motherhood. This is what God does for me every day. He is grabbing my face every day, looking at me in the eye, and reminding me of His love. This is exactly what He has called me to do. Imagine if our children, their children's children etc.. put people ahead of things to be accomplished. This world would be a much sweeter, richer place and their life would be so full. Mommas, it starts with us right here right now.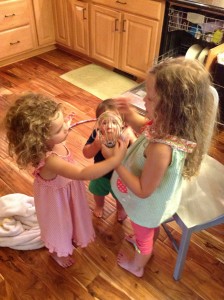 This is a picture of the kids licking cookie dough off the beaters:)
12 Responses to Learning to Love Distractions