Advice for my Children about Marriage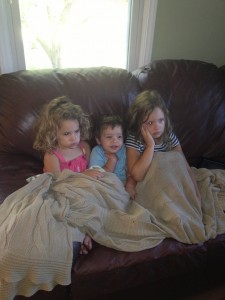 First of all my prayer is that you will all one day find that person God has meant for you to be with, and will be able to experience the rewards within a marriage. The marriage relationship is the most important one between us all. It puts the entire world into existence. When you make the decision to make the vow to God it should be talked of, dreamed of,  prayed over, and held as the highest decision you will ever make. One of the most important qualities to search for when looking for your spouse to marry someone who's number one passion is to pursue after God. When you find that person the rest falls into place. No, they will never be perfect, but you can trust that God's hand is on their life and they know it.
To my girls, honor this man you have prayerfully chosen above all others. Talk highly of him to others. Learn to rely on God's grace to bring the joy in your life, because trust me he is incapable of doing it all, only God can. I know it can be tough but ask God daily to give you a cheerful attitude, because you will set the tone of your home. Make it the place your husband and children never want to leave. When you have those days where the tears fall, and you'll have them… Go in your room, shut the door, get on your knees, and pray for God's strength to make it through. He is powerful in your weakness.
To my boy, show the wife that you have prayed over that you honor her above all others. Ask her what is going on through her mind often and prepare yourself to listen. Provide her with security and remind her often of how much she means to you. Stick up for her, be on her side, and encourage her. When you do these things sit back and watch the joy fill her eyes to know her heart is safe with you. Work hard for your family and provide for them. When you start to feel the weight of the world on you shoulders, and you will… Go to your room, shut the door, get on your knees, and pray for God's strength to make it through. He is powerful in your weakness.
Now for some true honesty, this marriage relationship is amazing , wonderful, and down right hard at times. There is no way around that. Let me tall ya what others will not tell you. Marriage is NOT meant for your happiness. When your unhappy PRAY, when your lonely PRAY, when you don't think you can do it any more PRAY. He is the only answer. When you come to Him holding up a marriage that you promised for forever to Him He will honor that and bring you whatever it is you are needing.
Forgive them, when they mess up again, forgive them, and then when they mess up again, forgive again. God is the best example of this. Don't ever speak of the word divorce or seperation in your homes. Don't provide the way out. Protect your marriage as you would your own life. Whatever is God's, satan will attempt to break it apart. Fight for it and you will reap the rewards. If you think your children would be better off, they won't. If you think you would be better off, you won't.
Another piece of advice is to surround yourself with other families that share your values about marriage, but don't compare. Trust me, NOBODY has it all together no matter what things look like on the outside. We are all in the same boat and all need JESUS! May you find the person to forever link arms with to go on your crazy roller coaster of a life with. Your dad and I will always be here for you and I pray daily that we can be that influence to give you sweet memories of a hardworking and blessed marriage.
I'm linking this post with:
The Prairie Homestead,  A Mama's story, Raising Arrows, The better Mom,The Modest Mom, What Joy is Mine, Far Above Rubies, Growing Home, Heavenly Homemakers,Time Warp Wife, Thankful Homemaker, Mamal Diane, Teaching What is Good,  A cat like curiosity, Mom's the word, conerstone cofessions, A proverbs 31 wife, Some of the best things in life are mistakes, Let this mind be in you, A Wise Woman Builds her home, CSAHM Parenting Linkup, Deep Roots at Home, Graced Simplicity, Raising Homemakers, Women Living Well, Hope in Every Season, Jill's Home remedies, Little Natural Cottage, Our simple country Life, Raising Mighty Arrows, The Purposeful Mom, Consider the Lillies, Happy and Blessed Home, Homemaker by Choice, Your Thriving Family, My Joy Filled Life. New Life Steward, Hometead simple, Christian Mommy Blogger, Let this Mind Be in You, Heart Reflected
5 Responses to Advice for my Children about Marriage