Importance of Family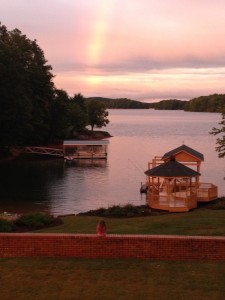 One of the things I hope to pass down to my children is the importance of time well spent with family. Time that is unhindered by clocks and schedules but is still shortened by laughter, and days full of reminiscing. I want to teach them to never take the opportunities for granted. We had the privilege to spend the last week in Lake Keowee in South Carolina at an amazing lake house with over 30 of us all together including Aunts, Uncles, Sisters, Brothers, Cousins, and Grandparents. We can't get this precious time back.
There were many mornings of people staring at the coffee pot waiting for that first cup to head to the front porch and watch the sun hit the water and finally our faces. There were huge plates of pancakes, cinnamon rolls, fruit, breakfast casseroles, and bacon going around. Soon after that, little kids started running to get in bathing suits, to them that is when the day starts. The rest of the day was spent in water, on sand, in a boat, in a kayak, snacking, sipping on pina coladas or iced coffees, Pandora blaring the country music, slathering another layer of sunscreen, playing cards, watching the ball game, and basically soaking in every moment of lake Keowee.
The nights were spent pulling out the big plates once again and filling them with mac n cheese, chicken, slaw, meatballs, potatoes, and green beans. The late night campfire with the most beautiful moon reflecting off the water will be a long lasting memory for me. As well as the good old fashioned gambling game we all played around the table with three dollars a piece topped off with a batch of our familie's famous homemade stickies. Then came ice cream, couch sitting, and TV watching. Unable to hear the TV from all the comments about what was on it! Laughter and blankets filled the room as one by one people went to bed to start all over again the next day.
As it draws to a close I am ready to get home, back to my normal. I only like to escape for so long, but it sure was nice to escape with people you love the most.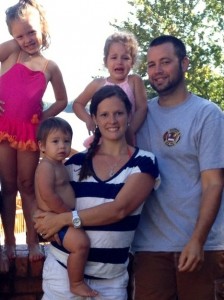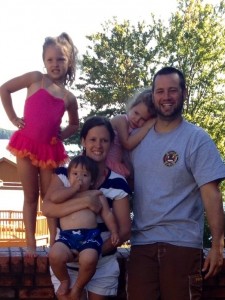 …and one more with Zoe not screaming:)
2 Responses to Importance of Family