Facing Judgements and Ridicule
When I listen to my mom talk of the horror stories of drama that my sisters put up with in their middle school and high school careers, it literally makes me feel nauseous. I too have been there and can remember it so vividly. From the gossip, back stabbing, and tears they are not all fun times to recollect. As I did my usual pondering while the kids were out playing I was thinking and hoping that maybe since my children will be home schooled they won't face the kind of stuff I did, or what my sisters are having to go through right now. Then it dawned on me… I am no longer in school, I am a grown woman with a family of my own, and I do not see my peers on a regular basis; yet I still face judgements and ridicule on a daily basis. I remember my mom telling me that adulthood was a lot like a grown up middle school. The only difference today is that my peers and my school are no longer my world. I now have my own priorities and things to keep my mind off all of the people in this world who's only agenda is to bring you down. In reality this really doesn't stop the fact of wanting to be liked by others and be everyone's friend. I suppose as you get older you realize how impossible that is, but it's only human nature to still have the yearning.
Being a conservative Christian woman can be tough in today's world. There is a pendulum that swings far from one side to the other as far as extremes go. The truth is, we can all only speak for our own convictions the Holy Spirit places on us. As long as they line up with God's word then I feel we need to just leave people alone unless we are going to pray for them or encourage them. An example of this is that some Christians believe alcohol should never touch your lips. If this is their conviction, then I pray that they hold fast to that and trust God. Me on the other hand, I love wine. Honestly, I've never felt convicted about this. Drinking it til I'm drunk is an entirely different thing that I have no part in as it is sin. If you are a Christian and get drunk every Friday night it is in no way my place to judge you. In God's eyes, my judgment is no different from the person getting sloppy drunk, in fact He hates it. He wants to see His people waiting with open arms when a fellow believer falls.
I have felt ridicule for the amount of children I have or am going to have, for homeschooling, or for simply being a goody-goody. Honestly whenever I feel a conviction from God about something new instead of obeying the first time like I teach my children to do, I admittedly first think, "Oh gosh what's so and so gonna think about this? They will for sure think I'm crazy now!" I'm just wanting to shout it out through the words on this blog that I am praying for boldness, to follow hard after God no matter the judgements or ridicule that will follow. I'm praying to be quick to give answers from the Holy Spirit when I am questioned with my convictions. No, not in an ugly way, but the tender to way that God desires in hopes to shed a small light on an issue and have someone think differently about a situation. I'm praying to live a life worth living. I don't have to be loud and boisterous, but I can certainly live the life God has given me walking in His grace for others to see. That in itself is the most powerful witness to others.
My advice for my sisters is to live the life worth living, approval from the world will NEVER come when you belong to GOD, but it's ok. His grace and mercy covers all, reveals all, and loves all. You are precious to the ONE that matters.
My beautiful sister Emma on her 13th birthday.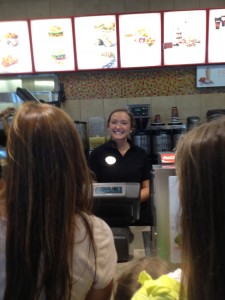 My other beautiful sister Lily working hard at Chick fil a:)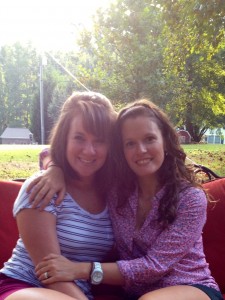 One of my life long friends from middle school whom holds no judgements and loves me as I am.
Sharing this with: The Prairie Homestead,  A Mama's story, Raising Arrows, The better Mom, The Modest Mom, What Joy is Mine, Far Above Rubies, Growing Home, Heavenly Homemakers, Time Warp Wife, Thankful Homemaker, Mamal Diane, Teaching What is Good,  A cat like curiosity, Mom's the word, conerstone cofessions, A proverbs 31 wife, Some of the best things in life are mistakes, Let this mind be in you, A Wise Woman Builds her home, CSAHM Parenting Linkup, Deep Roots at Home, Graced Simplicity, Raising Homemakers, Women Living Well, Hope in Every Season, Jill's Home remedies, Little Natural Cottage, Our simple country Life, Raising Mighty Arrows, The Purposeful Mom, Consider the Lillies, Happy and Blessed Home, Homemaker by Choice, Your Thriving Family, My Joy Filled Life. New Life Steward, Hometead simple, Christian Mommy Blogger, Let this Mind Be in You, Heart Reflected
8 Responses to Facing Judgements and Ridicule