How to Make Chocolate Chip Cookies Even Better
It is no secret to any one who knows me well that I have the world's biggest sweet tooth. Homemade Chocolate Chip cookies have to be my all time favorite! I follow the original Nestle Toll House chocolate chip cookie recipe. I love these so much and make them so often that I buy the ingredients in bulk and keep them stocked. Over time I have learned a few tricks  on how to make these amazing cookies taste like heaven. Below I will put down the ingredients listed on the back of a bag of Nestle Toll House chocolate chips then in bold I will add my little adjustments.
2 1/4 cups all-purpose flour
1 tsp baking soda
1 tsp salt ( I used sea salt with an extra pinch) I can't even put in to words what this does for these cookies!
1 cup of butter 2 sticks softened (I completely melt the butter) This makes flatter cookies with a crispy edge. When taken out of the oven at just the right time they will still be soft in the center.
3/4 cup granulated sugar
3/4 cups packed brown sugar
1 tsp vanilla
2 large eggs
2 cups chocolate chips (I add an extra 1/4 cup) You can never have too much chocolate!
1 cup chopped nuts (I usually don't add these)
– Preheat oven to 357
– Combine flour, baking soda, and salt in small bowl.
– Beat butter, sugar, brown sugar, and vanilla in large mixing bowl until creamy.
– Add eggs one at a time beating after each addition.
– Gradually beat in flour mixer.
– Stir in chocolate chips
– Drop by the spoon full onto ungreased cookie sheet
– Bake 9-11 minutes. I bake mine for 9 minutes. When they come out of the oven you want them to look like you should possibly stick them back in the oven for another minute. Since they are already hot they will continue to cook for the perfect cookie. Right when they come out of the oven I take them off the baking sheet and put them on my counter top to cool. I have found that they get too hard if left on the cookie sheet.
At this point I have usually had a glass of milk sitting in the freezer to let it get those ice crystals on top. Nothing is better than a homemade warm cookie straight out of the oven with a glass of ice-cold milk. AMAZING! *Saying this in my high pitched opera voice* 😉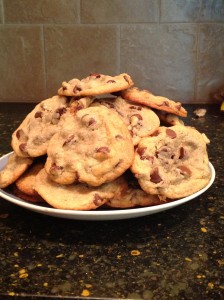 One Response to How to Make Chocolate Chip Cookies Even Better