DIY Flu Stopper
This is the third year I have revised this article. You have to make this stuff!!  It is a staple in our home.
A few years ago I found myself desperate. I had three children at the time and was stuck in bed with strep throat and the flu…Oh, and my husband was at the fire station. In an attempt to get myself out of the bed as soon as possible I started looking for some home or herbal remedies to speed up the process. I couldn't afford to be out of commission for very long.
Through all of my research everything kept pointing back to elderberries and all of the amazing properties they contain to prevent and even fight against the flu. Up until this point I had never even heard of elderberries, but like I said, I was desperate. I figured it couldn't hurt to try.
I went to the store to get my ingredients for a recipe on elderberry syrup I found on the blog jillshomeremedies.com. This recipe is frugal friendly and makes a lot. Once at home I wasted no time making it and started taking the remedy soon after. Since I was so sick I consumed it every hour starting that afternoon until bedtime. I slept the best I had all week.
When I woke up, I'm not kidding, my symptoms were gone!!! I was still a bit weak from not eating or drinking but the sore throat, fevers, and body aches were no where in sight. I was able to care for my children and get back into life.
From that moment on I started telling everyone!! If someone came by my house not feeling well, I served them up my concoction. I have had numerous people in my family and friends talk about how wonderful the elderberry syrup was and how fast it took away their symptoms.
Every flu season I make a fresh batch. I have even made some to give as part of birthday presents this time of year. My goal is prevention for my entire family. I take thrill in the least amount of doctor trips as possible.
Here is the recipe I use. If you go to Jill's recipe she also includes a video tutorial that is really great.
Elderberry Syrup
Simmer elderberries in water for 30 minutes. Mash them, then strain into your quart sized jar. Add in honey and vinegar. This keeps for 6 months in the fridge.
Kids 5ml
Adults 10ml
For prevention you can take it just once a day. If you end up getting sick it is safe to take every hour until your feeling better 🙂
My kids love the taste and ask for it everyday. The raw local honey and the apple cider vinegar only add to the awesome health benefits of this syrup.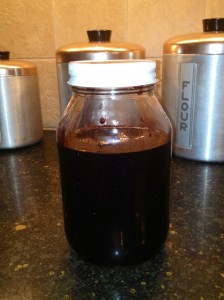 I could seriously pour this on pancakes.
One Response to DIY Flu Stopper