Less is More
I'm sure most could tell that from my post on Monday that I have been having a bit of a hard time lately. From hearing about a precious babies' passing, a miscarriage from a friend, and the passing of a beautiful Godly woman. I have been in the dumps and just not feeling like myself. I was so disgusted and aggravated at how one day I can be on fire for the Lord and the next day feel like I've fallen so short. Through this small brief period in my life I have realized that I will always fall short, He never will. I succeed when I get back up and grab God's hand.
Me and my husbands new motto is, "Less is more and I don't care!" I'm sure that sounds funny, but over the past couple weeks we have realized that we are doing too much and holding on to too much. I heard an awesome saying in Bible study the other day. BUSY stand for Being Under Satan's Yolk. How true is this? I'm so thankful for a time of revaluation. The I don't care part of the motto is not only about not caring what others think, but about taking the pressure off ourselves. Ever since the beginning of the summer my husband and I have had numerous serious talks that stemmed from the time we put our house on the market, but not near enough laughs. Don't get me wrong, we have sill being enjoying life, but we have had burdens on our back making sure every step we take is the right one and over analyzing everything. We made an agreement last night that we will make no more plans. If we want to build our kids a tree house we aren't going to ponder about…well how long will we be in the this house to make it worth our efforts. Heck no! The kids would love it, we will have fun building, so daggonit we are gonna do it!
I think as Christians, rather we want to believe it or not we can be legalistic in our thinking. Our burdens become heavy, when in fact the burdens of the Lord are light with freedom attached. For instance there is nowhere in the Bible that says I have to make fresh bread every week, my kids can't watch cartoons, I have to wake up at the crack of dawn, or even that my blog post have to be posted by 8:00am. These are pressures we put on ourselves for no good reason. Today I decided to slowly retrain myself to let go of the expectations and legalistic thoughts. He has already bought me at a very high price, no matter what awesome things I do today I can't make Him love me any more or less.
As part of my training I slept in. I pulled every baby in bed with me and snuggled. I didn't worry about my precious coffee, homeschooling, or the fact that my blog post was not yet written. When we ventured downstairs I made pancakes for My Zoe Bell without feeling the need to make double batches to save for later… nope just made them for breakfast right here and right now:)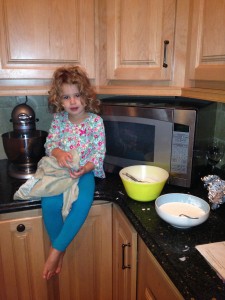 While I made breakfast the cartoons came on! They even had my husband intrigued:)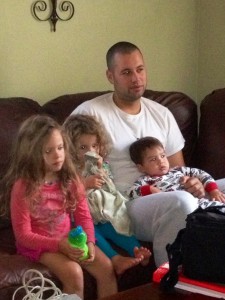 I'm thinking that school today will consist of books and Candyland. These simple changes have already made a world of difference in me, my husband, the kids, and our home. God gives what you need just when you need it, even if it is to just ENJOY. Has God been revealing anything to you lately?
One Response to Less is More