Why Have Children?
The thought of having more than one or two children puzzles many people. Unless of course the first two were the same-sex then it might be acceptable to try one more time. They don't understand it, and have been brainwashed by society to see them as a hindrance and burden. They think, "Who the heck would want that?" Honestly, at one point I had fallen subject to the brainwashing as well. Thankfully, the Lord opened my eyes to see children the way He sees them. No, I don't see them that way all the time, but the glimpse He gives me of the vision and big picture He has for my children are all I need. They are blessings, legacies, and our army to stand with us.
Is it scary to bring so many children into the world? Well yeah, it sure is. We look around at this crazy place we live in and feel the need to cover the eyes and ears of these precious ones, and guard their hearts from future trouble this world brings.  But with those glimpse from God I was referring to, we also see God's love shining from them. They affect family, friends, and strangers with just their presence. Just the other night we all went out to eat and a family sitting beside us were commenting on how amazing it was to see three small children with another on the way. I asked him how many they had, and he replied, "4 teenage children." I asked then why he was so amazed, he said he hadn't seen that many little children that close in age in a long time. This family had lots of curiosity and smiles. When you see well behaved children (Not that this is always the case) they are contagious. That's what God wants. They are our way to draw people in and show them Jesus.
It says in the Bible that they will stand with us against our enemies. These aren't just children they are PEOPLE, and will grow to be our closest friends. To raise them in the fear and abomination of the Lord is not only a commandment, but is served to be a blessing to us. It also says in the Bible that we will have no greater joy than to watch our children walk with the Lord. If they are walking with the Lord then we will always have prayers going up on our behalf, we will have care if we get sick, and they will be able to reach all of the people we were never able to reach and bring them to Christ.
The whole idea of having children is to always be looking at the big picture while living in the moment. This may seem counter productive, but I think it is very powerful. If we can look at them as future leaders of this world we are training, then we won't mind the small sacrifices of the moment and redirect them once again. If we can look at them as future husbands and wives who will one day raise our grandchildren then we can sacrifice our time by living in the moment and let them help us cook, or work out in the yard. If we can look at them as future best friends, then we can sacrifice our to do list by living in the moment and color that picture with them or play hide and go seek to form those sweet relationships.
No, I wont ever be a doctor, have a business, or have what people call free time (What is that again?) I will, God willing, be having and raising people. Just like all those other great occupations are those people's calling…this is mine. I am confident he will give me exactly what I need each step of the way. May I always do this job He has given me well for His glory to reach the world.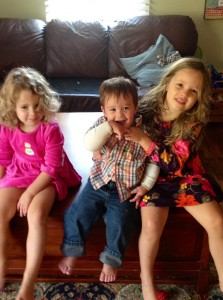 Sharing this with: The Prairie Homestead,  A Mama's story, Raising Arrows, The better Mom, The Modest Mom, What Joy is Mine, Far Above Rubies, Growing Home, Heavenly Homemakers, Time Warp Wife, Thankful Homemaker, Mamal Diane, Teaching What is Good,  A cat like curiosity, Mom's the word, conerstone cofessions, A proverbs 31 wife, Some of the best things in life are mistakes, Let this mind be in you, A Wise Woman Builds her home, CSAHM Parenting Linkup, Deep Roots at Home, Graced Simplicity, Raising Homemakers, Women Living Well, Hope in Every Season, Jill's Home remedies, Little Natural Cottage, Our simple country Life, Raising Mighty Arrows, The Purposeful Mom, Consider the Lillies, Happy and Blessed Home, Homemaker by Choice, Your Thriving Family, My Joy Filled Life. New Life Steward, Hometead simple, Christian Mommy Blogger, Let this Mind Be in You, Heart Reflected
6 Responses to Why Have Children?