No Greater Joy…
November 30th 2013,
Today, at the kitchen table, dressed as Cinderella with her crown on, my first-born gave her life to Jesus. At that moment angels sang, a name was written, and the Holy Spirit removed the sin and entered that sweet innocent heart of hers. Her prayer was so simple, beautiful, and life changing. She told me that she knew Jesus died on the cross for her. She believes Jesus became alive again three days later, and she knows she is going to heaven. No hesitations or questions. I am humbled and stand in amazement to see her child like faith in action.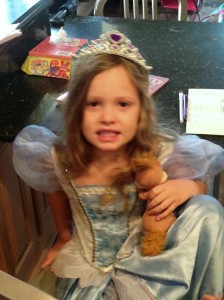 I have failed countless times but God is always faithful and fills in the numerous gaps I create. To know that He has been pursuing her and speaking to her despite all of my imperfections amazes me. God truly uses my children to mold me, sharpen me, and to see Him through fresh eyes. To see Him for what He truly is…our Saviour. He has sanctified me through them and reveals Himself in such mighty ways. He is giving me glimpse of the fruit my children will produce, and it makes me want to cling to God that much tighter to keep watching the fruit grow.
3 John 1:4 "I have no greater joy than to hear that my children walk in truth." I have experienced this first hand today and it leaves me motivated and determined to speak and live truth every single day. Thank you God for a very blessed day!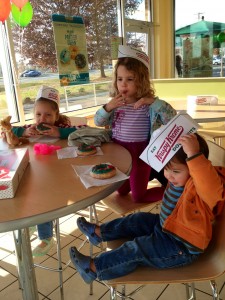 Celebrating at Krispy Kreme with delicious doughnuts!
Sharing this with: The Prairie Homestead,  A Mama's story, Raising Arrows, The better Mom, The Modest Mom, What Joy is Mine, Far Above Rubies, Growing Home, Heavenly Homemakers, Time Warp Wife, Thankful Homemaker, Mamal Diane, Teaching What is Good,  A cat like curiosity, Mom's the word, conerstone cofessions, A proverbs 31 wife, Some of the best things in life are mistakes, Let this mind be in you, A Wise Woman Builds her home, CSAHM Parenting Linkup, Deep Roots at Home, Graced Simplicity, Raising Homemakers, Women Living Well, Hope in Every Season, Jill's Home remedies, Little Natural Cottage, Our simple country Life, Raising Mighty Arrows, The Purposeful Mom, Consider the Lillies, Happy and Blessed Home, Homemaker by Choice, Your Thriving Family, My Joy Filled Life. New Life Steward, Hometead simple, Christian Mommy Blogger, Let this Mind Be in You, Heart Reflected
3 Responses to No Greater Joy…