Family Traditions
…Sometimes the most ordinary things could be made extraordinary, simply by doing them with the right people… Nicholas Sparks
Every year my family gets together to make Christmas cookies. It's never anything fancy. Most of the time someone burns something or forgets an ingredient with a last-minute trip to the store. It's always the same every year.  It truly is the people who make the family traditions. I am so thankful for all of the people in the picture above and all of the others in the kitchen. (Especially for bringing me cookies to eat while I carried around a sick baby)
Here is a picture of the awesome cookies I made before the crowd came with my sister Lily.
Salted Chocolate Chip Carmel Cookies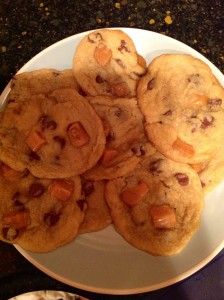 AMAZING….
I got this recipe off an awesome website I found through Pinterest called saorganics.com
Ingredients
2 cups + 2 tablespoons all-purpose flour
1/2 teaspoons baking soda
3/4 cup (1.5 sticks) salted butter, softened
1 cup light brown sugar
1/2 cup sugar
1 egg, at room temperature
1 egg yolk, at room temperature
2 teaspoons vanilla extract
3/4 cup semi-sweet chocolate chips
16 wrapped caramels, cut into 4 or 5 pieces each
sea salt
Directions
Preheat oven to 325 degrees F.
Mix the flour and baking soda in a bowl and set aside.
With an electric mixer or stand mixer with a paddle attachment, cream the butter and sugars together. Add the egg, egg yolk, and vanilla and mix well. Gradually add the flour mixture and stir until a dough forms (may take a couple of minutes of stirring). Fold in the chocolate chips (do not add the caramels yet). Do not overmix the dough at any point in this process.
Chill dough for at least 30 minutes (or up to 5 days) in the refrigerator. Drop by tablespoonfuls onto ungreased baking sheet. Press a few pieces of caramel onto the tops of the cookies. Bake for 8-10 minutes or until edges are slightly browned. The centers should appear very soft and puffy. Sprinkle each cookie with sea salt while they are warm. Let cool completely and enjoy!
2 Responses to Family Traditions