Raising Boys To Be Real Men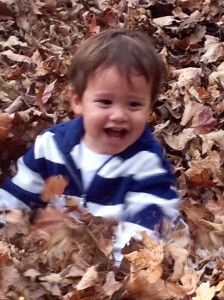 Obviously, I do not have much experience in this area. My son is 18 months old, and son #2 is still cooking. What I do have is a Godly vision for my boys and a path that I can see God has set forth in His word for parents to follow to raise leaders.
Recently in my post about why people are waiting for marriage. I challenged women to not put off making the commitment of marriage when it is in God's will. I received a comment from one of my readers stating that a lot of it has to do with the men. She stated that she had been waiting patiently, but most men wanted to run from their commitment. Of course there are exceptions, but this does seem to be a common trend.
I'm not sure when it happened, but overtime it seems our society is trying to demasculinize our boys. We as mothers can easily dive into the culture of making them, "Momma's boys." – I know, I've thought it myself. We want him clean, sitting still, first on the team, time to rest and play, and to be treated like his sisters.
The thing is, God didn't create him to do those things. It is a proven fact that males have a completely different genetic makeup. Why are we going against nature? God made them to be active, dirty, driven, sweaty, competitive, and rough around the edges.
He needs to feel the sting of sacrifice, yet learn of  a woman's love through his momma. We do this not by pacifying them but by respecting them. We need to encourage work ethic and their initiative. We need to stand by our boys when the world tells them to indulge and be lazy. Let's be the cheerleaders helping them to see their future and where diligence will get them.
Studies show that the majority of boys will grow up to marry a woman like their momma. Scary huh?  Let's make sure they marry a woman who takes everything your son does and makes it 10 times better. Rather that be his passions, his walk with the Lord, financially, positions of leaderships, or friendships. Let's raise them to look forward to the commitment of family. It is not something to run away from because the world says you're not "Ready or mature enough." It is a privilege and blessing that God has called him to disciple his wife and children.
When our boys reach the stage of marriage we as mothers need to take a step back. It is no longer about us but about his wife. We are to be the facilitator, helping  him leave and cleave to his wife. Encourage their time together, only give advice when asked, yet pray like there is no tomorrow. (He is now the leader)
It's not easy when these boys are our babies. But if your are a mother and have been blessed with a boy it is our calling to raise them the way God intended. To lead and provide for the next generation. There is nothing more pleasing to a momma than a God-fearing man. Let us all keep up the good work ladies!
Encouraged? Subscribe to not miss a thing!
Sharing this with: The Prairie Homestead,  A Mama's story, Raising Arrows, The better Mom, The Modest Mom, What Joy is Mine, Far Above Rubies, Growing Home, Heavenly Homemakers, Time Warp Wife, Thankful Homemaker, Mamal Diane, Teaching What is Good,  A cat like curiosity, Mom's the word, conerstone cofessions, A proverbs 31 wife, Some of the best things in life are mistakes, Let this mind be in you, A Wise Woman Builds her home, CSAHM Parenting Linkup, Deep Roots at Home, Graced Simplicity, Raising Homemakers, Women Living Well, Hope in Every Season, Jill's Home remedies, Little Natural Cottage, Our simple country Life, Raising Mighty Arrows, The Purposeful Mom, Consider the Lillies, Happy and Blessed Home, Homemaker by Choice, Your Thriving Family, My Joy Filled Life. New Life Steward, Hometead simple, Christian Mommy Blogger, Let this Mind Be in You, Heart Reflected
3 Responses to Raising Boys To Be Real Men