When Life Is Supposed To Be Fun… But Isn't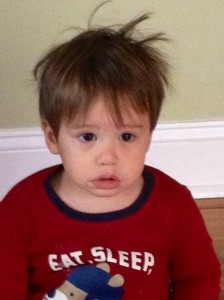 This is the time of year where it is supposed to be easy for gratitude to flow off your tongue. Family and friends get together often, Christmas cookies are exchanged, and gifts unwrapped. Everyone is in the Christmas spirit and strangers go out of their way to say,"Merry Christmas!" People don't hide behind their hard outer shell this time of year. Everyone speaks and shakes hands.
But what if the fuzzy feelings aren't there? What if God has your family going through a trial right now for one reason or another? This has been the case for my family this season, specifically for my grandma and great aunts. Two of my grandmother's sisters were both in the hospital over Christmas. One of them recovering after a risky surgery and the other fighting for her life in a battle against cancer. They have been at the hospital hours each day. They even spent the night Christmas Eve in order to be close by when needed.
No life is not always fun. However, I feel it is the joyous times, when things are going great, that can help build us up when the storms of life threaten to shake our faith. On Christmas Eve we were able to reflect on funny memories, and bless one another that other wise would not have been able to happen. It's never fun to have to go through the "grown up" stuff of this world, but on the other end is a growth and a deeper understanding of the Lord that we didn't expect.
Even when life isn't candy and rainbows, people who have the Lord like my family, have a hope no matter what the outcome is. It is God that binds us together in a way no one can explain.
When you find yourself in a place where life is just not fun. (Even if that's dragging the kids to the store in the rain.) Remember that God is right beside you trucking along with you even when you feel all alone. He is always paving a way to something bigger and better. Rather it's your kids driving you crazy with toys up to your ears, or a loved one in the hospital… nothing is too silly for God to show up.
James 1:2-4 Consider it pure joy, my brothers, whenever you face trials of many kinds, because you know that the testing of your faith develops perseverance. Perseverance must finish its work so that you may be complete, not lacking anything.
Does anyone have any experiences that were tough, but drew you closer to God? Subscribe, share, and encourage!
Sharing this with: The Prairie Homestead,  A Mama's story, Raising Arrows, The better Mom, The Modest Mom, What Joy is Mine, Far Above Rubies, Growing Home, Heavenly Homemakers, Time Warp Wife, Thankful Homemaker, Mamal Diane, Teaching What is Good,  A cat like curiosity, Mom's the word, conerstone cofessions, A proverbs 31 wife, Some of the best things in life are mistakes, Let this mind be in you, A Wise Woman Builds her home, CSAHM Parenting Linkup, Deep Roots at Home, Graced Simplicity, Raising Homemakers, Women Living Well, Hope in Every Season, Jill's Home remedies, Little Natural Cottage, Our simple country Life, Raising Mighty Arrows, The Purposeful Mom, Consider the Lillies, Happy and Blessed Home, Homemaker by Choice, Your Thriving Family, My Joy Filled Life. New Life Steward, Hometead simple, Christian Mommy Blogger, Let this Mind Be in You, Heart Reflected
One Response to When Life Is Supposed To Be Fun… But Isn't