TODAY…Is Special
My little girl Zoe has this red satin fancy Christmas dress. She has never worn it. It's not really the kind of dress you wear any old-time. The best place to wear it would have been to the Christmas concert at our church. I forgot to put it on her…In reality, they misbehaved the entire time so we left early and spanked them when we got in the car! That is besides the point:)
Just about every day this petite little girl ask me to put on that fancy red dress. Every day I tell her, "No Zoe that dress isn't for just around the house but for special occasion only." Everyday she tells me how much she loves it and wants to be a princess.
It hit me the other day…Why in the world will I not let the child wear that dress???? To her, today is the day. Today is the day to be a princess, and the day to dress up for no reason at all. Why do I feel the need to save up the special moments? They are there right under my nose all day waiting to be experienced and opened as gifts from the Lord.
In tribute to my sweet Zoe Bell here are my lessons of the day…
Today is special. Today is the day to wear my favorite shirt, and my warmest pair of socks. Today is the day to make pancakes and have extra cream in my coffee. Today is the day to drink out of my favorite coffee cup. (Seriously y'all I even save my favorite coffee cups) Today is the day to let them watch that movie they've been wanting to see. Today is the day to bring out the better dishes. Today is the day for the Pinterest projects you've been wanting to get into. Today is the day to turn the radio up loud and dance it out. Today is the day to stay up late snuggling a little longer.
She taught me that today is special and is worth giving it my all, even when it seems like just any other day.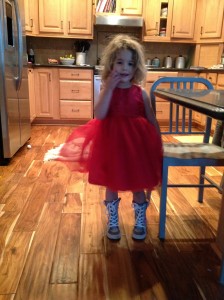 5 Responses to TODAY…Is Special