Family Day
I'm sitting here so excited about the day ahead. I have no special plans, no date night planned, no time to myself today. TODAY is all about my family. My husband comes home from the fire station this morning and he will be with us all day. I guard these days very carefully because they don't happen often enough. If they were a continuous occurrence, like most things, I would take it for granted.
When he is here we are complete. The normal routine of the day goes right out the window. There is a lot more running, screaming, tickles, and laughter when he is here, and the kids know it! The house gets messier, I snack a lot more, and we do less real school. It's like a mini vacation day when dad is here.
I usually fix something a little better for supper when he is here. Tonight it will be…
Split Pea and Sausage Soup – I got the base for this recipe off the back of my grocery store's green split peas bag, and of course added extra of all my favorites.
1 lb kielbasa sausage
2 cans of beef broth
1 large onion chopped
1 bay leaf
1 1/2 cups chopped carrots
2 cups split peas
salt and pepper to taste
Cut sausage into bite size cubes. Reserve 1/4 of sausage and place other 1/4th in blender with about 7 ounces of beef broth and puree.
Pour remaining broth in your pot. Bring to a simmer while adding your diced onion and sausage cubes. Add your pureed mixture, the bay leaf, and your salt and pepper. Simmer for 30 minutes.
Add your sliced carrots then continue simmering another 10 minutes
Add split peas into the pot. Simmer till soft not mushy.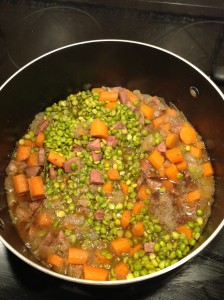 Of course you can't have soup without cornbread🙂
Enjoy! What are your family days like? Any special recipes?
2 Responses to Family Day