Combat with Essential Oils (Diabetes)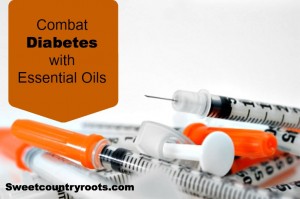 Photo courtesy of antpkr/freedigitalphotos
Through out this series I will be tackling common health problems and how we can combat them with essential oils. I have been an RN for 8 years and have seen the harmful effects of manufactured drugs and the yo-yo effect it has on the body. I hope to share some alternative options to try before starting on another bottle of pills.
With that being said, I do not claim to be a doctor and I am aware that there are times when medical intervention is necessary. Please discuss further with your health care provider.
Diabetes is defined as a metabolic disease where the body does not produce any or enough insulin which causes glucose levels to run high in the blood stream. It is the leading cause of heart disease and premature death. I explain it to my patients by telling them we want the sugar or (glucose) INSIDE the cells for energy not floating around in your blood. Insulin is like the key that unlocks the cell to allow the sugar in. When there isn't a key, the sugar can't get in, resulting in high blood glucose levels. That is why we give insulin injections.
The good news is that there are ways to treat this naturally without harmful side effects. The rewards of taking your health back into your own hands are amazing and freeing!
RECOMMENDATION:
Real whole foods diet
Essential oil blends:
Endoflex, Di-Gize, Theives
How to use:
You can diffuse one of the oil blends in your diffuser for 30 minutes every 4-6 hours.
You can put 2-3 drops in your hand of one of the oil blends, rub together, then cup your hands over your nose and inhale throughout your day…whenever you think of it.
You can put a few drops of one of the oil blends into water and ingest.
I am sure we can all think of someone in our lives who is struggling with diabetes. Subscribe and pass on the information as a healthy alternative!
I only recommend Young Living Essential Oils. I trust in their quality and purity and have had great results. Learn how to sign up for a wholesale account here and save 24% on your oils! You are not required to sell oils to others, you can simply buy them for yourself at a discount. If you decide you would like to partner with me and share your essential oils with others you can do that as well. Sharing is caring!
Check out the other post in my essential oil series:
How To Buy Essential Oils On A Budget
Must Have Essential Oils Postpartum
One Response to Combat with Essential Oils (Diabetes)