Essential Oils For Teething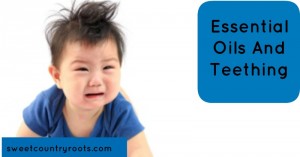 Photo courtesy of Phaitoon/Freedigitaphotos
Just when you have developed a sleeping routine for your baby, they awaken screaming in the middle of the night like a newborn again. Your first thought is, "Oh no! what's wrong?" With in minutes of grabbing them you know exactly what it is… the dreaded TEETHING!
Have no fear of how you will make it through the next several months, I've got an essential oil to help ease your baby's pain and get you tucked back in bed again.
The essential oil is called Clove.
The reason Clove works so well is due to its principal constituent called Eugenol. This has been used in the dental industry for years to numb the gums. This is a natural analgesic/anesthetic compared to the gook you buy at the local store. Clove is said to be one of the most antimicrobial, antiseptic, anti-fungal, antiviral, and anti-infectious of all essential oils.
Clove is found in the oil blend called Thieves which comes in the Premium Starter Kit. To sign up to get this along with other top used oils and a home diffuser click here.
Application Tips:
Dilute Clove or Thieves with 1 Tbs of your carrier oil and apply directly to the gums. It's probably best to just use your finger. The pain will go away within minutes. Use caution to not get the oil on their lips as it may sting.
Another amazing oils that will help tremendously would be the good ol' Lavender. Before bed, bathe your little one and add 1-2 drops in their bath water. This will relax and calm them before the teething pain gets in full swing. Diffusing lavender in their room will help maintain the calming atmosphere as well as aid in support for all of the other cold like symptoms that can sometimes accompany teething.
I only recommend Young Living Essential Oils. I trust in their quality and purity and have had great results. Learn how to sign up for a wholesale account here and save 24% on your oils! You are not required to sell oils to others, you can simply buy them for yourself at a discount. If you decide you would like to partner with me and share your essential oils with others you can do that as well. Sharing is caring!
Any other advice for Mommas of teething babies? Subscribe and Share!
Catch up on my other Essential Oil Post!
How To Buy Essential Oils On A Budget
Must Have Essential Oils Postpartum
Combat With Essential Oils (Diabetes)
Combat With Essential Oils (Colic)
One Response to Essential Oils For Teething