The Most Important Work I'll Ever Do
The most important work I'll ever do…
is to teach them the Gospel.
is to cuddle with them on the couch.
is to kiss the scraped knee when they fall.
is to grab a chubby toddler out of his crib.
is to change another diaper.
is to nurse a newborn in the wee hours of the morning.
is to listen to a five-year old's jokes.
is to read the Bible story again before bed.
is to dance like a ballerina with a three year old.
is to color in the "my little pony" coloring book.
is to tickle a rough little boy.
is to bathe a sweet-smelling newborn.
is to cook their favorites (pancakes and cornbread)
is to take them to church.
is to wipe another nose.
is to show them what this life is all about.
is to let them be kids.
is to be that example.
is to take them outside.
is to read to them.
is to show them Jesus all around.
is to protect their hearts.
is to show them how to have love and compassion.
is to do all this and so much more with a smile that proves these little people are the most important work I'll ever have the chance to do on this earth.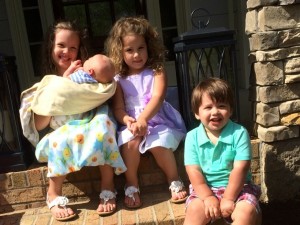 Agree? Subscribe and Share!
One Response to The Most Important Work I'll Ever Do