Large Families and the Environment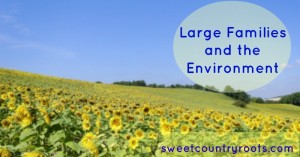 Photo courtesy of Dan/ Freedigitalphotos
I saw an article on Facebook recently from a man who had more than the average amount of children.  He was simply saying, "Why not have more?" He shared that our reasons for not having more children are so superficial compared to all the goodness and blessings that they bring.
In the comment section there was a women obviously very upset. She was going on and on about how this man was an idiot and was selfish. Her reasoning was due to the fact that all of his children were using up resources in our environment and contributing to more and more waste. Not to judge…but her profile picture did not look like she made her own clothes out of recycled material. She  looked like the typical American.
I will be the first to admit that I am in no way a tree hugger. I am however resourceful, I don't like waste, and I love to stay frugal and save money.
This made me ponder over a few different issues. First of all, are their truly any couples out there who stop having children in order to save the planet? If there are, I have never heard of them. People stop for various reasons, but decreasing their family's carbon footprint is typically not first.
Secondly, it got me thinking about how much more resourceful we have become as our family has grown larger. In fact, the majority of families with three or more children that I know are frugal minded, good to the environment, and use fewer resources than most families of four. (I am aware quite the opposite can be true. I am just making a generalization.)
Here is a small list of ways larger families are resourceful.
Larger families typically go on fewer vacations thus flying less. It's not often you see a huge bunch of kids boarding an airplane going to a nice vacation.
Larger families typically have 1-2 vehicles and travel together. When they are out running errands they tend to do it all at once in the same day. Not necessarily to save the environment, but because it's a pain to get kids in and out of the house multiple times.
They are more likely to grow their own food.
Larger families waste less food Ex) leftovers. There are more mouths to eat it.
Larger families reuse clothes, toys, furniture, shoes, etc..
I can't help but think this all had to be apart of God's natural design. To know that the more children you have the more resourceful you will be, mostly out of necessity.
Yes, that are some large families that are wasteful and smaller families that are resourceful. I'm just ranting about other people that are more concerned with the environment than human life. It just doesn't make sense to focus our energies on population. Seems like an area to focus on would be divorce rates and how a family separating doubles everything from homes, vehicles, and waste. This isn't spoken of by environmentalist.
I found an article from 10 years ago stating exactly what I assumed. Divorced households spent 46-56% more on electricity and water than married households. Compared to married households, the divorced households could have saved 73 billion kilowatt-hours of electricity and 627 billion gallons of water. This is an area worth working on.
I believe God's commands are there for reasons to protect us and to ultimately give us more joy. Larger families CAN go green just as easily as smaller families. The important thing is to keep the families TOGETHER.  It is all about our contributions and  how we can impact each other not about the waste.
Anything to add to my list? Subscribe and share!
Sharing this with: The Prairie Homestead,  A Mama's story, Raising Arrows, The Modest Mom, What Joy is Mine, Growing Home, Time Warp Wife, Thankful Homemaker, Mamal Diane, Teaching What is Good,  Mom's the word, conerstone cofessions, A proverbs 31 wife, Some of the best things in life are mistakes, Let this mind be in you, A Wise Woman Builds her home, Deep Roots at Home, Graced Simplicity, Raising Homemakers, Women Living Well, Hope in Every Season, Jill's Home remedies, Little Natural Cottage, Our simple country Life, Raising Mighty Arrows, The Purposeful Mom, Happy and Blessed Home, Homemaker by Choice, Your Thriving Family, My Joy Filled Life. New Life Steward, Hometead simple, Let this Mind Be in You,

7 Responses to Large Families and the Environment