How I Grocery Shop With 4 Kiddos Under 5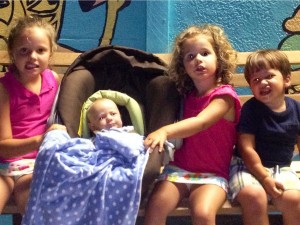 I don't know about y'all, but I love hearing people's stories about how they do what they do. It seems that everyone has a certain secret that helps them be more efficient at a certain task. Well, here is my attempt at that. I am often asked questions on how I manage the little kids doing daily task. The one question that gets asked the most often is, "How do you grocery shop with them?" and "Why don't you wait until your husband's home?" These are my tried and true strategies for making it out of the store with everything on my list, no extras, and no tantrums.
-I'm telling ya, it all starts with parking. I always park in the spot closest to the rack of shopping carts in the middle of the parking lot. I do this for two reasons. 1) I get the "runner" strapped in before we cross the parking lot 2) At the end of the shopping trip I can buckle everyone in the car then return the cart to the rack while being only a few steps away from the car for safety purposes.
-Before I start getting everyone out of the car I go ahead and place my money, list, and grocery card in my back pocket. I do this so I'm not digging through my purse at the checkout counter.
– As for where all of the kids go…The 4 and 5-year-old walk beside me. The 2-year-old goes in the front seat. The 2 month old goes in my little carrier pouch I wear.
-I go in the same pattern every week and I try to go fast.
-If they are behaving I will occasionally give them some of the samples of fruit. If the behave the entire time then they get one of the free cookies that our grocery store offers.
-Once everyone is in the car and buckled and I have returned the cart they get a lot of praise for obedience and for helping me. I also try to remember to tell their daddy when they are around for extra positive reinforcement.
I would rather do all of this by myself because it encourages me to get in and out with no impulse buying.  I never want to feel that my kids are too rowdy to take somewhere. The only way they will learn is by going, doing, and seeing how to appropriately act. By the same token I can't expect them to stay in  the store for an hour while I browse around. I must be quick and proficient.
What tips can y'all add? Is there something that you do and people are always asking how? Please share!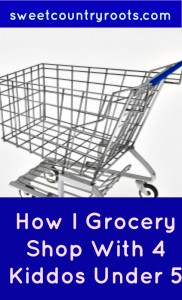 Photo courtesy of David Castillo Dominici/ Freedigitalphotos
Sharing this with: The Prairie Homestead,  A Mama's story, Raising Arrows, The Modest Mom, What Joy is Mine, Growing Home, Time Warp Wife, Thankful Homemaker, Mamal Diane, Teaching What is Good,  Mom's the word, conerstone cofessions, A proverbs 31 wife, Some of the best things in life are mistakes, Let this mind be in you, A Wise Woman Builds her home, Deep Roots at Home, Graced Simplicity, Raising Homemakers, Women Living Well, Hope in Every Season, Jill's Home remedies, Little Natural Cottage, Our simple country Life, Raising Mighty Arrows, The Purposeful Mom, Happy and Blessed Home, Homemaker by Choice, Your Thriving Family, My Joy Filled Life. New Life Steward, Hometead simple, Let this Mind Be in You,

28 Responses to How I Grocery Shop With 4 Kiddos Under 5