I Found My Dream Homestead!
Have you ever had a dream that you have prayed to God to fulfill? I have! For as long as I can remember I have wanted a small farm or homestead to call our own and raise our family. At certain times it was all I could think about. Looking online for land, watching gardening videos, and watching food documentaries are my usual pastime. My husband and I have had numerous discussions on when and where we should build our homestead.
Friday afternoon while the kids and I were outside in the garden and my husband was at the fire station I had an epiphany. I am at my perfect, dream homestead. The Lord has answered my prayer. Not in the way I thought or imagined but I AM LIVING MY DREAM. The Lord has been working on my heart in showing me true contentment. I pulled out a piece of paper and pen and began to jot down all that we had accomplished toward self sustainability with a fresh set of eyes.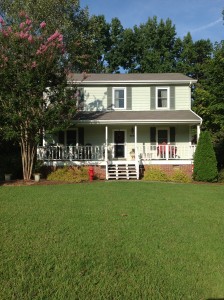 I was floored when I looked around our yard with my change in perspective. In all of my searching for a homestead we had been building one all along. We have already come a long way in our journey. How did I miss this? I learned that during all the searching…it may be right in front of  you the entire time.
Wen I looked around me I no longer saw just our yard… I saw the Styron Homestead!
Here is a glimpse..
We live on a corner one acre lot with a 1700 sq ft  30-year-old home.
We have four children and home school the ones old enough for school. We spend our days outside playing or making new things in the kitchen from scratch.
To the side of our house we have a 10×20 heirloom organic garden that we started from seeds in our basement.
Beside our garden we have a 5×7  hand-made compost bin made from wood pallets.
To the back we have a chicken tractor made from scrap materials by my husband with 4 egg laying chickens.
We have 2 bee hives and got our first quart of fresh raw honey this year.
We use our basement as a root cellar for bulk food storage that we have purchased from local coops as well as a large freezer for local grass-fed meat.
We have a wheat grinder to make our own flour for homemade breads.
We buy raw milk from local farmers.
We make all of our own cleaning supplies and detergents.
We make all of or own toothpaste, deodorant, and lotions.
We have 3 large raised beds for herbs that we use for cooking as well as for medicinal purposes.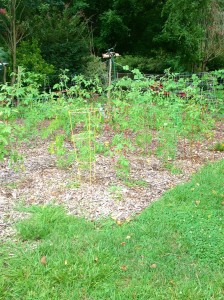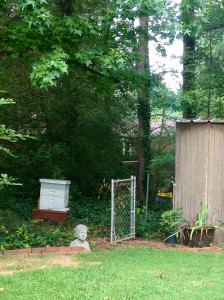 Yes, I am aware there is a creepy boy head statue in this pic. It is a family inside joke!
Our goals for the future are to extend our garden and add-on a greenhouse. We want to start a worm bin to add to our compost endeavours. I want to learn the art of canning and making fermented foods. I would also love to start raising chickens for meat. I want to maximize what God has given instead of looking for better. I want or homestead to reach its potential and the only way to do that is by focusing on what we DO have not what we DON'T. Oh man, this lesson applies to many areas in my life:)
What about you? Do you have any dreams that are waiting at your doorstep?
Sharing this with: The Prairie Homestead,  A Mama's story, Raising Arrows, The Modest Mom, What Joy is Mine, Growing Home, Time Warp Wife, Thankful Homemaker, Mamal Diane, Teaching What is Good,  Mom's the word, conerstone cofessions, A proverbs 31 wife, Some of the best things in life are mistakes, Let this mind be in you, A Wise Woman Builds her home, Deep Roots at Home, Graced Simplicity, Raising Homemakers, Women Living Well, Hope in Every Season, Jill's Home remedies, Little Natural Cottage, Our simple country Life, Raising Mighty Arrows, The Purposeful Mom, Happy and Blessed Home, Homemaker by Choice, Your Thriving Family, My Joy Filled Life. New Life Steward, Hometead simple, Let this Mind Be in You,

18 Responses to I Found My Dream Homestead!