Easton's First Birthday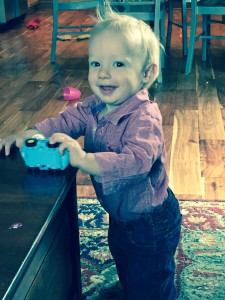 Happy first birthday to my hip rider, my molder, my partner in crime, and my second half.
Easton, you have stretched me, humbled me, and have shown me that picture perfect is only an expression. Life is messy, unpredictable, and it's all about how we relinquish the craziness that makes it so great.
Little guy, you and me have a special bond. You know it, and you love me without fail. You find your greatest comfort in my arms. You've taught me the mess doesn't matter, how to take one day at a time, and how to turn lemons into lemonade. You made my dream come true and turned me into a stay at home momma. Your smile is one of a kind. The best way to see it is to put you in sunshine. You thrive when your out in the open and getting dirty.
Buddy, I don't think I'll ever forget all the crying you have done your first year of life. (I am smiling as I type this) One day, I'll pull you up in my lap and tell you all the stories. I'll show you all of the pictures I have of you with your arms wrapped around my leg. We will laugh as I tell you how you pushed your sibling away from me. I'll tell you about the first time you looked at me in the middle of the night (Yes, you loved to randomly play and have parties in the middle of the night) and said "Momma" for the first time. I'll show you the video of you strapped to me in the baby carrier dancing and singing in the kitchen "I Will Survive."
Today, I celebrate you sweetheart. We survived the past year…now it's time to watch you thrive.
We love you Easton! Happy Birthday!
One Response to Easton's First Birthday