I Remember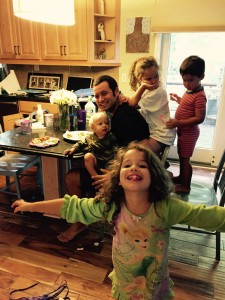 I have a vivid memory. I remember it just like it was yesterday. I was pregnant with my first baby, my daughter, Willow. I was on my way to the hospital for my night shift as a nurse jamming to Chris Brown's, "With You," with the windows down and wind blowing through my hair. Though that song is meant for his girlfriend, in that moment it became me and my girls song.
"And you mean to me what I mean to you and together baby, there is nothing we won't do
Cause if I got you, I don't need money, I don't need cars, girl, your my all.
And Oh! I'm into you, and girl, no one else will do. Cause with every kiss and every hug,
you make me fall in love"
I remember feeling hot tears of thankfulness fall down my cheeks as I rubbed my hand over my belly. Not just for my sweet Willow, but for this gift of motherhood.
It's all hard, oh so hard, but never in my life have I ever felt more complete. This is my purpose. She made me a momma.
I have been having the time of my life ever since she was placed in my arms and all the sweet ones thereafter.
This is quite the beautiful mess I'm in. I'll linger as long as I can and praise God for the privilege. Even if it is through a Chris Brown song:)