The Power of Submission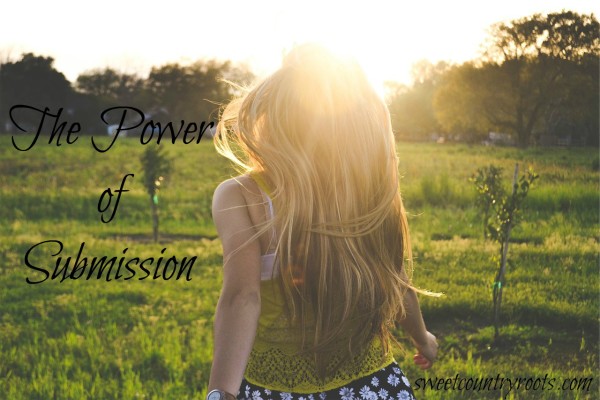 She is strong and influential. Her reach extends beyond the realm of her family as she walks in grace, truth, and honor. Her humble disposition draws others to her words of wisdom. Opinions aren't worth her precious time. She speaks life into others and always seeks out the good. She has a heart of discernment and uses God's word as her source, her guide, and her sword.
She has it. The skill of beautiful submission. She sees through the eyes of her Creator as she looks at her husband. He is the appointed leader that she compliments, perfects, and gives life to. She knows her position and she does it well. She is the heart behind her husband. She makes it easy for him to love, protect, and praise her. She sees no need to prove herself because she is confident in who she is in her heavenly Father's eyes.
She notices the way of women today. They are all at the end of their ropes fighting to be heard, be seen, and be in control. The struggle is so heavy and thick like a wool blanket on a summer day. Her husband gives up and gives in. What is seen as a compromise is really a defeat. It's the small prick in the big picture plan. The prick continues to ooze until most of the sweetness of the bond is gone.
The freedom comes in the submission. She simply does her role. She respects her husband and always holds him in the highest regard. Respect to a man only helps him become the man God has called him to be. What a pivotal role to have. She sees that and takes action by sitting down, letting him take the spotlight, and holding his hand through it all. What a beautiful power she has to turn a man into a leader. What a privilege to watch and to fully anticipate.
She knows the power behind her submission. She knows the God given order for family and abides by it. She is aware it is for her best interest. The submitting to her husband is not something she takes lightly. It isn't her obligation but rather her calling. It is her calling to lift him up, cover him in prayer, and bless him all the days of his life.
Let's take off our angry disposition as we push him to the side to stand in front. Instead… Let's be that soft landing place at the end of the day. Let's be the first one they want to call with the good news and bad. Let's be the woman worth protecting and investing time into because we are seen as precious. Let's make his life worth living. Let's point him to the Savior. Let's always aspire to be the woman who understands the power of submission.
Are you encouraged here? Please subscribe and share your thoughts on submission.
Photo credit Pixabay
7 Responses to The Power of Submission