I'm honestly not quite sure where to begin. I had the honor of writing my first book review. My only hope is that I can do this book justice. The title of the book is called "Dear Joey, Embracing Everyday Of Motherhood, As If Your Last." Written by Alicia Eggers. The words for this book were inspired by God when Alicia saw the breathtaking picture of the beautiful Joey Feek in her hospital bed holding onto her sweet baby girl.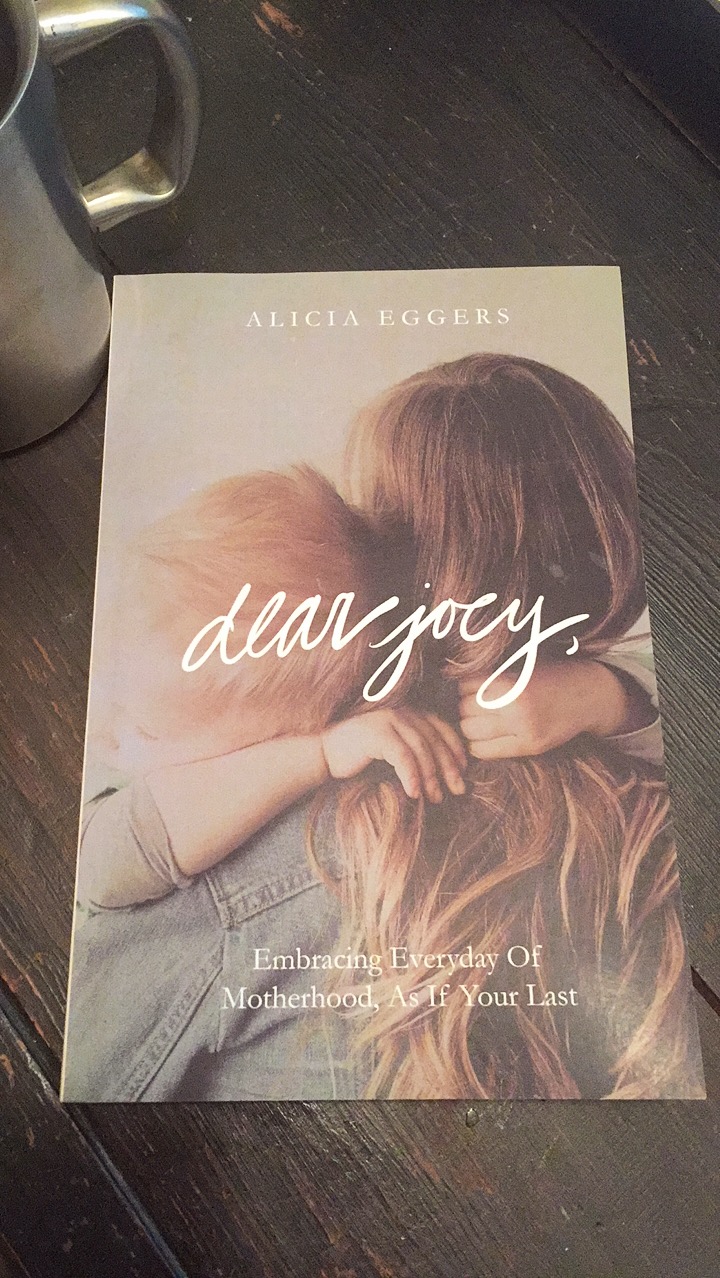 The words on the pages were like a, "slap in the face" kind of reflection. The honesty to write a book of this sort, convicts me to be an open book like what I have read. You see, the Author wrote about her dreams, her aspirations, and the beautiful picture of motherhood. She also wrote about the process of pregnancies, husbands working late, bills, and disease both mentally and physically. She wrote about the things we all go through, but rarely post about. (We only want to show the world our good side.) It is amazing to watch the story unfold as she reflects and is able to see the hand of God throughout it all. His fingerprints are all over this book as she took inspiration from this photograph of Joey Feek and applied it everyday to her life.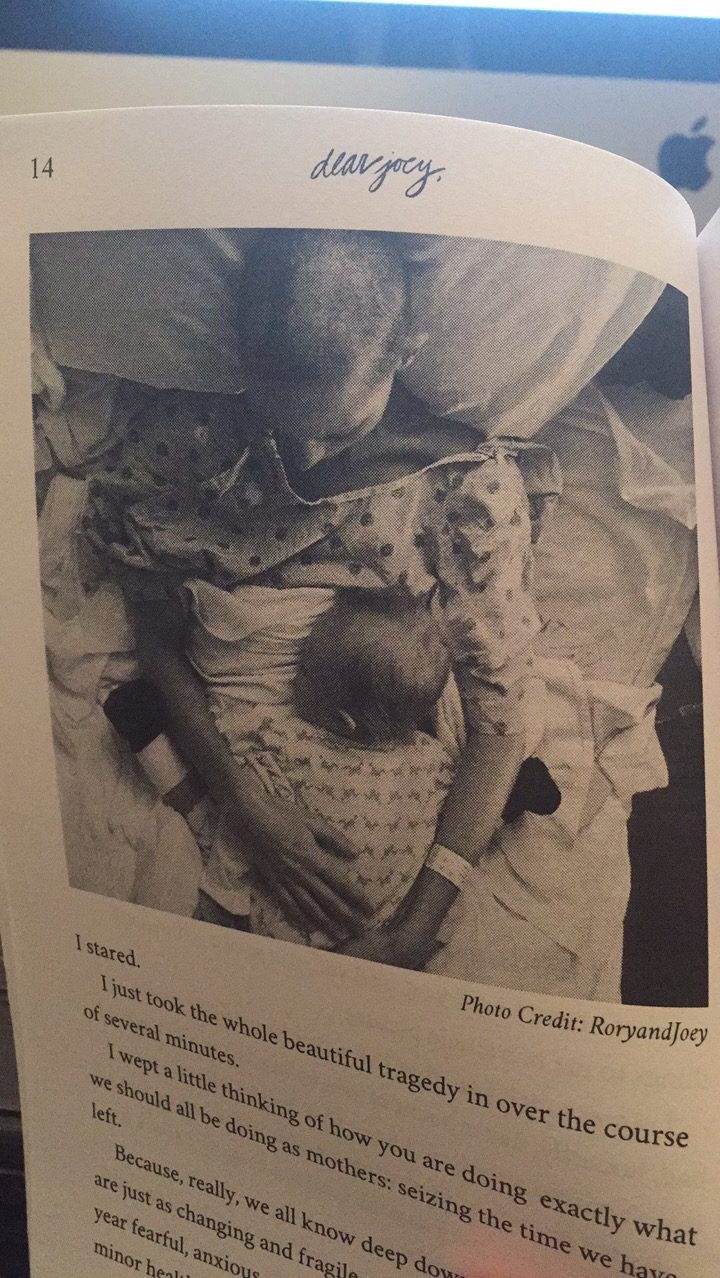 Her story was so relatable, but she didn't leave me in my pity as I was yelling," Yes! Me too!" at the pages. She provided scripture upon scripture of Truths and Promises that are God breathed. Every single one sunk down deep in my soul where they belong. She gave words to cling to and gave the change in perspective that is needed for the days or even weeks or months when we are lost in the trenches of motherhood.
One quote in particular that jumped out at me, "We are made to be used." How opposite this is from what the world screams at us! In my own thoughts I had been pondering about this myself. It seems we are always making excuses to self preserve, to say no, or not give. Alisha is right y'all. That isn't our purpose or what He made us for. We should be used up, if you will, a literal spilling over of all of God's blessings so we can fall into His arms day after day to be filled once again by His grace to serve again to others.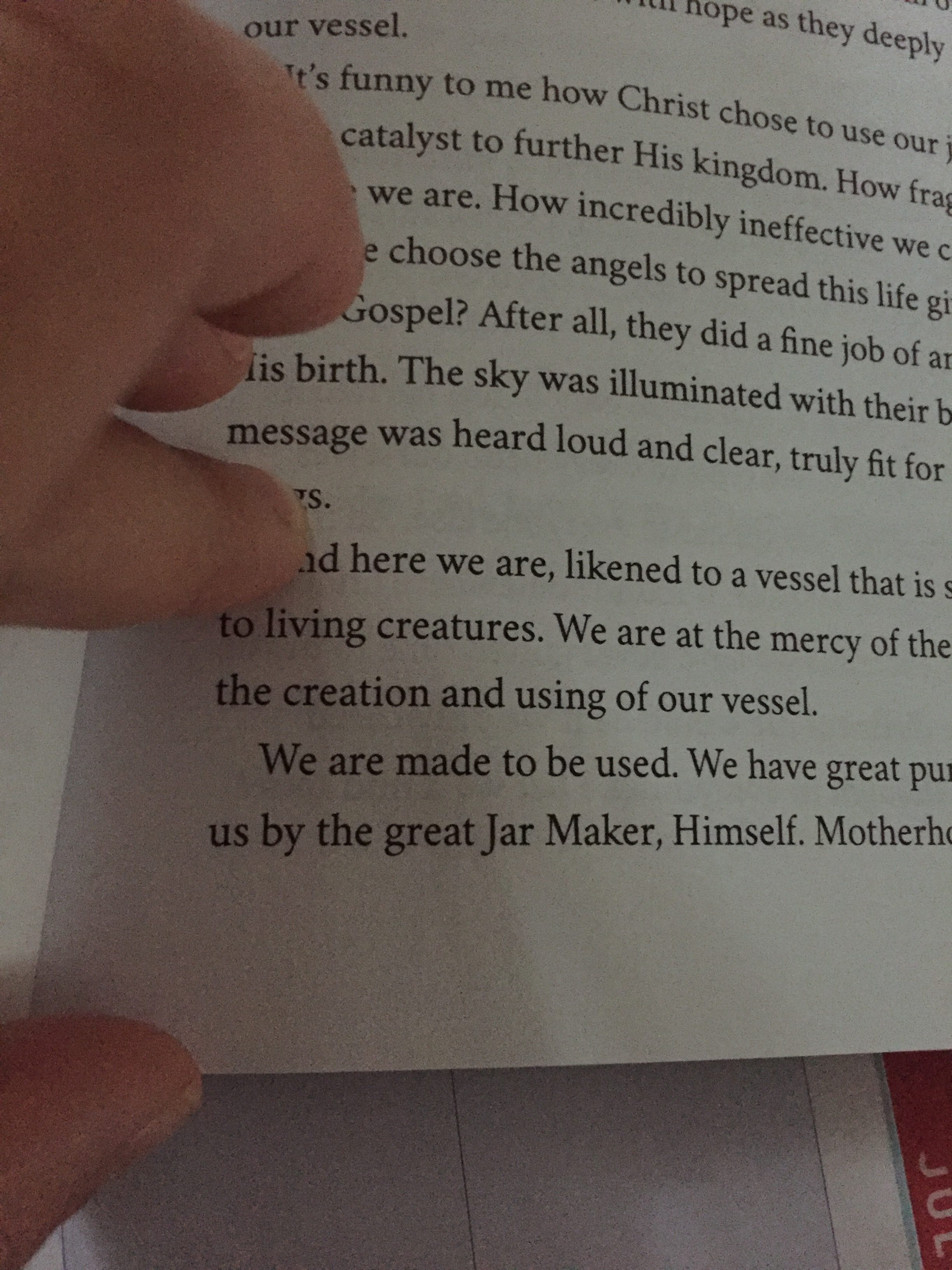 A paragraph that spoke to me. "I don't know about you, but to me, motherhood is the most heart-wrenching, soul- exposing, and holiness-making journeys we will ever have. We can't go at it alone. And, we can't fight the suffering parts. As much as we desire to flee the scene of our suffering, there is no greater treasure than to stop and notice God in the midst of it. To see His face, filled with love and adoration for you as you parent His gifts. To remember that in the middle of the storm, all we have to do is keep our eyes on Him and we can walk on water, too." Ahhh I LOVE that!!
To read Alicia's story and watch as it unfolds as she comes to the realization at the source of her strength and the meaning behind sufferings is truly beautiful to see.
I am reminded that we aren't promised easy but we are promised love, protection, and eternity.
I was blessed to have the opportunity to read this book. My recommendation is to do yourself a favor and get yourself a copy of "Dear Joey". God used her authenticity to speak write to my heart. I know this book will do the same for you.
Alicia Eggers is a Christ follower, Wife, and Mama to 5 little ones. She blogs along with her sisters over at Honestly Motherhood. This is her VIRAL blog post that was the catalyst for this amazing story! Go check her out!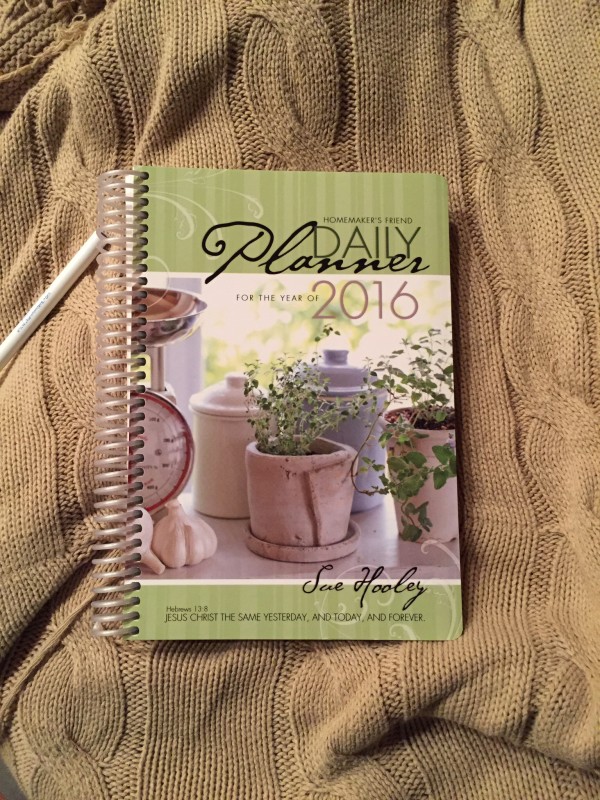 If you've been here at Sweet Country Roots for long then you know I am a type B, fly by the seat of my pants kinda girl. I love it, but I actually drive myself kinda crazy. I drool over my type A friend's lesson plans and schedules. I have tried many different planners, notebooks, and calendars but still end up with sticky notes from one end of the counter top to the other.
I was given the opportunity to review The Homemakers Friend Daily Planner by Sue Hooley. I was so excited to get some organizing ammunition sent my way. Thumbing through the pages, the planner did not disappoint! I realized that Mrs. sue was my kinda lady! Turns out she has been a homemaker for over 24 years with six children. She definitely knew what she was doing when she created this planner to help this scattered brain of mine.
The planner has tabs for the year, month, and week, which is pretty standard, but it doesn't stop there. Included are tabs for task, projects, and shopping list that you can tear out and take with you.
Out of all of this, my favorite part of the entire planner is the, "Weeks section." Below each day is space for me to write things down for that specific day along with that days menu right beside it for an easy glance. (Those things are typically on the sticky notes) She didn't include time slots which I love! She knew a homemaker's day never looks the same and isn't easily predictable. For me the time slots would only add to my anxiety of never being able to stick to it.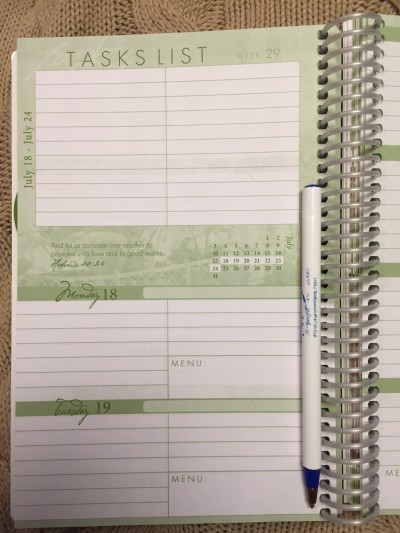 On a side note, it is actually very pretty with sweet scripture and quotes scattered throughout. And…. it fits in my pocket-book!!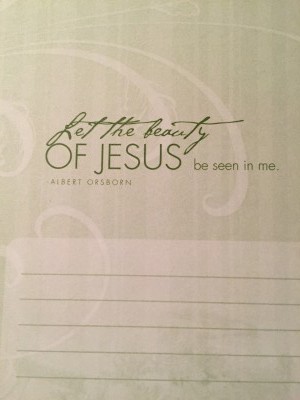 I would highly recommend this planner to any and every homemaker out there rather you are super organized or are quite the mess like me. Head on over to Sue's Website Here at the Homemaker's Friend to grab you one before the new year of planning starts! You won't be disappointed.
You can find Sue and her other products over at HomemakersDepot.com too.
This is a very honest sponsored post and all opinions are 100% mine:)
So let me be perfectly honest, I am not a fancy jewelry or accessory type of girl. When it comes to my hair it's either in a pony tail or I have a couple of bobby pins stuck in it somewhere. That is until I got this beautiful little package in the mail.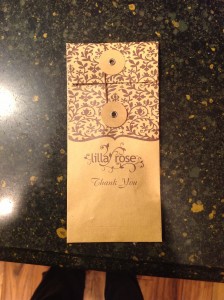 This Lilla Rose flexi clip is absolutely perfect for the practical momma like me who needs her hair up quickly, yet also needs to be reminded that she is in fact a girl! As I shopped for the flexi clip I wanted I was amazed at the abundance to choose from. Check out the different styles!  Once I looked at it my first thought was, "How in the world do I put it in my hair and expect it to stay?" Let me tell ya, I pulled my hair back with it in five seconds and it STAYED without slipping the entire rest of the day. With 4 little ones you can only imagine how active I was all day.
It gets better, the next day I wore my hair differently with the same clip and my hair still did not fall out of it. Through my research on their website they have clips for every type of hair length and texture and even provide videos to help you pick out the one right for you.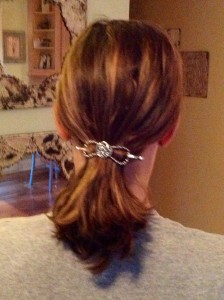 Needless to say these are my new favorite hair accessories. It saves me time, aggravation, and helps me looked put together on those days when everything else is falling apart. I plan on purchasing some more for my little girls, birthday presents, and Christmas presents. Click on the link to check it our for yourself! Lilla Rose
A special thanks to Elizabeth Ours for letting me try out the flexi clip so I can share with my readers how awesome they are!