This week is it. It's the climax, the top of the roller coaster as we coast down hands high feeling the rush of Christmas blow through our hair. The fruits of our labor come to fruition. The gifts get torn open, the new recipes get tasted, the Christmas pajamas get worn, Luke 2 is read, Christmas carols are sung. It's all a building up, and a preparation to celebrate with every ounce we've got. It's a lovely picture to soak up. I fully intend on breathing it all in and savoring every morsel of the sweetness.
Read the rest over at Raising Homemakers…
Have you ever sat face to face with a divinely appointed, God directed conviction? It's a love hate relationship to feel the Lord's pruning. Though sometimes painful, you know your being formed into His image and reminded of His truths.
Allow me to give you some back story. I am passionate and driven girl. I love to write beautiful words, it comes so easily. I love using the creative side of my brain where my heart overflows. In fact, I get kind of cranky when I can't get out the creative things on my heart.
It's all good Jesus stuff I want to do…really.
Read the rest over at Raising Homemakers today!
I have felt it. Felt the pressure hovering all around me as I attempt to wade through the waters of homeschooling the little ones entrusted to me. We all dream the dreams of raising inventors, world changers, and influential leaders. As mothers, the dreams lie within us all.
So we set to work...
Read the rest over at A Mamas Story!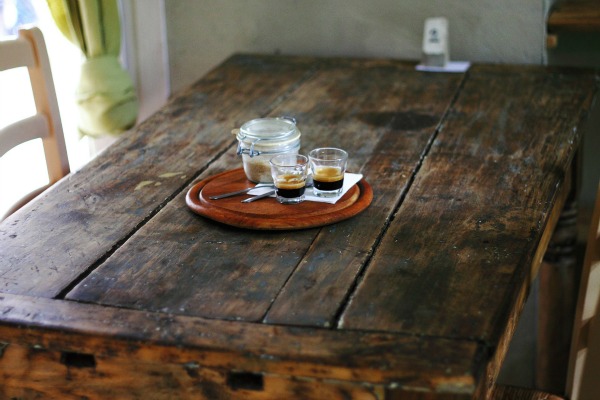 I have this theory about our tables and the stories shared around them.
I believe they are pivotal and generation changers.
So, daily I strive to do just that. Prepare my table, prepare my heart and home for stories that overflow. It's in those chairs around the table where the memories are made. Not jut any kind of memories, but the kind you find yourself always trying to recreate from your own childhood.
Read the rest over at Story and Table…
Photo credit pixabay
I am giving up on this dreamy fairy tale we call motherhood. This entire year I have been pushing on every side to fit us into this pretty wrapped box complete with a handmade bow with time for coffee afterwards.
It. Has. Been. Exhausting.
I am throwing in the towel, I can't do it. Done, done, and done.
Let me reveal the messiness of true motherhood. There are no beautiful morning rituals with coffee and Bible. There are no guaranteed glorious nap times. There aren't always children playing and laughing together. Most days school time isn't filled with nature walks and read alouds on the porch. Most nights it's not over just because it's bedtime. Schedule, what schedule?
The thing is, I'm giving up in order to gain.
There are far too many uncontrollable factors. What I give up selfish perfectionism I gain in beautiful perspective. Really, its refreshing and straight from a good God who desires me to experience joy in doing His work.
This is my life.
Unpredictable, busy, chaotic, full, beautiful, messy, sweetly simple, lovely, and everything I could have ever dreamed of.
Ladies, it's time to give it up.
To surrender, to yield, to submit, to give oneself.
What happens when we fully surrender our plans our dreams, our future, our life to God?
Take it a step further… What happens when we surrender the day, the minute, the second to His almighty plan?
This is where I have been living. Attempting to surrender the daily life, the mundane.
The big stuff, well, that's easy for me. Perhaps it's because I am in the thick of it right now. It is simple to utter the words, "Lord lead us, guide us," and trust He is taking us to great places in the palm of His hand.
It is the here and now He is looking for. The simple, yet uncomfortable submission and giving of myself over and over again.
I am learning ever so slowly to submit my need for order and "easy days." To give up my sleep, my body, my time, and need for control.
I am seeing it is all for good.
Life is relentless. Just when you think you have it figured out, another curve ball comes your way. With a daily, minute by minute surrender comes an overflow of peace. Every second was ordained and I am only to simply follow.
This power struggle between me and God, quite frankly, it is wearing me out. Over time it will do the same to you.
I encourage you today, whatever you are walking through…infertility, a huge pile of laundry, a torn marriage, a sleepless newborn, hopeless finances, a teething baby, juggling work and home, whatever it is…
Give it over every second of the day. His plans are great, and oh my the clarity and relief when I don't have to have it all figured out.
The distractions become divine interventions.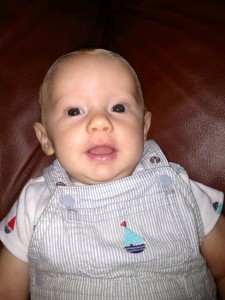 My Easton Taylor has stolen our hearts. Although it has only been three months it feels like he has always been part of our family, actually in God's eyes he has always been:) This little boy reminds me everyday what a blessing it is to follow God's will. He was our first baby that we didn't try to control the timing of when he was born, we let it to God as it should be. He was also our first home birth. I call him our adventure baby. The Lord has used him in so many ways to grow us deeper to Him and to trust in His sovereignty.
His brother and sisters absolutely adore him. He loves them as well! He wakes up typically once a night to eat (sometimes twice) and goes right back to sleep. He is super laid back and LOVES the attention from his older siblings. He is even starting to protest when no one is talking to him. I find myself lingering in his smuggles longer, kissing him more, and carrying on my hip all over the house with me more. The more children I have the more I see how quickly this time passes. The waking up at night doesn't bother the way it used to, the inconvenient feedings are welcomed as chance to hold him and just be.
His babyhood is so precious…
Thank you Jesus for fresh perspective on the sanctity of life. Thank you for the privilege of raising another soul for you.
trim.uQB1aD   His sweet laugh:)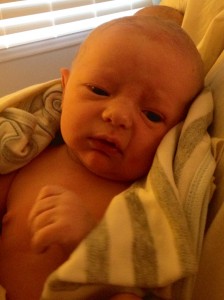 Meet Easton Taylor Styron! Weight was 7 pounds 6 ounces and height is 20.5 inches.
This sweet little baby boy was well worth the wait! Our hearts are so full and we all feel so blessed that he is here.
God is so good!
His natural home birth story is on the way…including the part where I told my midwives I was leaving and going to the hospital:) Glad they talked me out of it!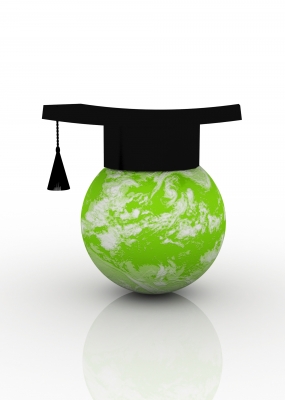 Photos courtesy of jcreationzs by Free Digital Photos
Not only am I not a fan of college but I find it to be unnecessary the majority of the time when an 18-year-old graduates from high school. Let me repeat, the majority. I am aware this is not all cases…Yes of course people need degrees to be doctors, lawyers, any kind of specialty etc… My question is, when did going to college simply because that's what you do, become the norm? When did we start accepting all of the normal debt that comes with having that piece of paper in hand? Like a lot of my post, it's not meant to pull you on my side or talk others into anything. The purpose, if even for a moment, is to make you say hmmm??? I want people to pause and wonder why we do things just because that's what they all tell us to do.
First I want to look at the typical American scenario. Most 18 year olds who walk across the stage at their high school graduation have no plan of what they want to do with their life and are hoping to figure it out in college all while accruing the average 35,000 dollars worth of debt. They see their entire life in front of them with endless possibilities. Not knowing that they are about to fall into the trap of, "typical." College has been beat into their heads from the time they hit kindergarten. Their parents spoke about it at supper and it became the focus as thy entered high school. It becomes ingrained that you are nothing until you're in that building. Let's face it, as parents we often want to base our success on where are children are attending. The unspoken in the situation is how they or their children are taking steps back financially to be able to say they are going to that certain university. It has become a, "Keep up with the Joneses atmosphere."
The people who benefit from our children being in college is not always intended for the child themselves. Banks, universities, and the government are all benefited way before the person actually going to school. In my opinion, whenever something is so heavily advertised and looked at as a must, then there is someone out there racking up and taking advantage. Why do people think the cost of college increases by roughly 7% every year? This is much higher than the average inflation and they do it because they can. It is easier to get in college these days than ever before and yet harder to find jobs with that piece of paper. Why? They need that money coming in. Heck, today you don't even have to ever walk in the building because of the multitude of online classes provided.
Most people, if not yourself, know of someone who spent money getting a degree (rather going into debt or not) then got a job that is no were related to their degree. 48% of college graduates are not working in their required field, and a four-year degree isn't even required. This makes no sense what so ever. Like I said in the beginning there are people who need degrees to be in their career field. This post is not about them. I am writing about the typical. How many people can look back on their college days and be proud of their past? College is now looked at as an experience rather than the degree anyway. We no longer need statistics to show us all of the drinking, drugs, and sex that go along with that experience. Kids assume they will figure out their career path when they arrive at college all while having the time of their lives. That's an awful lot of wasted energy and time to just think about something.
For our family we are not saving for college. We do however set aside money in a savings account for each child. This money of course could be used for college if their career depends on a degree, it could be used to jump-start a business, or could be used as a down payment for a home if any of our daughters want to be stay at home mommas. What ever way God leads them, it will be there to help them. We believe in showing them all of their options and potential not just, "You better go to college." I want to instill in them not only the value of a dollar, but I feel the value of their time is even more important. Our time on earth is so precious and every next move we make should be thought out prayerfully into which way would be most fruitful. I do not believe that going to school for a few years while you figure it out is the best use of ones time. There are internships, volunteer opportunities, and many good paying jobs where hard work will get you far. I want all of my children to be good stewards of the gifts God has given them; rather that be extra money for their family, their time to help others, or their minds to do something to contribute to our society.
We all don't have to be a cookie cutter generation. I want to show them what God can do when you step outside the box and take His leading versus the leading of the world. Any body with me? Opposed? Subscribe and share your thoughts!