Who I am
Hey! My name is Brittany,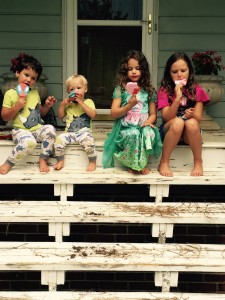 and this is my CRAZY crew. Baby number four came along April 9th🙂
I'm so happy to have you here!
Read along to capture a glimpse of this southern wild child being transformed by God into a homesteading, homeschooling mama of four. I would have never thought in a million years that He would mold me this way. I'm sure glad he did.
Follow along and join me (or laugh at me) as I lean on God's grace to tackle the learning curves of loving your husband, raising and loving babies God's way, homeschooling, self reliance, simple living, pinching pennies, and cooking good suppers.
Just in case you want to know a little more…
20 random facts about me.
I am a nurse
I married my high school sweetheart.
I am fascinated with farms.
I am an extreme morning person. -I can be quite irritating.
I am a terrible singer.
I quit high school.
We married at age 18. (see correlation to #7)
I love the smell of campfires. If it were a perfume I would wear it.
I put my fingers in my ears when I'm scared instead of covering my eyes.
I'm ridiculously cheap…or frugal.
My favorite color is green.
I can be very indecisive.
I love the old, antique, ragged, and vintage.
My favorite food is tomato sandwiches, or watermelon…no, Cracker Barrel's blueberry pancakes. (hence #13)
I love old hymns.
I love country music.
I am a coffee and sweet tea drinker.
I am a complete goofball
I love gardening.
There ya have it, nothing too fancy. But I'm so glad you're here!