Power of Perception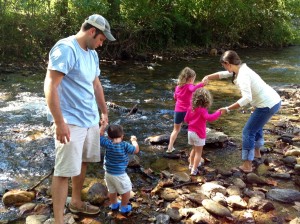 Do you ever have those times where you hear someone say a word or phrase, then you read about it, or it keeps being said over and over in a million different places? I've always felt that when that happens, it's for a reason and it's something I need to take in and focus on. Evidently, God has been wanting me to focus on the word perspective this entire week. Perspective is defined as your attitude toward something. I am seeing over and over again that your perspective can make a break you as well as those around you.
My thoughts started encircling the word perspective while I was reading a book I just got. Its Called Three Decades of Fertility and it's about motherhood with all of the challenges and blessings it entails. There are 10 chapters in the book with each one having the testimony of different women. I have read 4 so far. Out of everything in this book, the thing that sticks out the most is these women's perspective on life. Every single woman had good things in their life as well as bad. They shared it all from miscarriages to babies surviving with beautiful stories. Another commonality they all shared was that at some point (or many points) they felt as though they couldn't handle the pressure of raising children. The financial, emotional, and physical demands were more than they could bear. They felt God was leading them to have more children but didn't think they were capable. They went through depressions, misery, and self-pity. Once these women hit rock bottom they called out to Jesus whom had been there just waiting. They asked for restoration and change in perspective. Once they did, there circumstances didn't change, instead it was their joy and attitude about life. I'm seeing over and over that our circumstances will fail us constantly, but its our perspective through God's eyes that never disappoints and helps us to roll with the punches of this life.
Another eye opener for me was the death of a friend of mine named Sherry that was in my Bible study class for the past two years. She has been fighting against an aggressive brain tumor to keep her life and be on this earth for her husband and two small children. I have been receiving email alerts from her caring bridge site of her progress in between Bible study sessions. Let me just say that her and her husband Jeff have an eternal perspective that is absolutely amazing and encouraging, and honestly those two words don't even describe it. It's easy to see in the emails that her husband has sent out recently just how intimate they know Jesus. God has encompassed them and surrounded them in a way that is breathtaking. From His perspective, Sherry was healed yesterday morning when she stepped into eternity which has been their prayer from the day one of her diagnosis. God Whispered once again to me, "Your thoughts are not my thoughts." When I ask Him for wisdom and to see things through His eyes He delivers it and it can change your life.
God has worked miracles on Tim and I the past few years. This does not mean that we are never in the dumps or have terrible days. Heck, I had a terrible time with my two of my patients at the hospital the last time I worked and I'm sure there were some curse words said under my breath.  But… He redeems, renews, and forgives. I know where my strength comes from, straight from the Holy Spirit. The minute I forget to call on His name my attitude and perspective are drawn on myself, and I am such an imperfect failure. Who wouldn't get in a bad mood looking at that? But when I shift my eyes toward God and eternity, life has new meaning. I'm able to keep walking in joy, confidence, and love and hopefully grab hands to come along the way.
Sharing this with: The Prairie Homestead,  A Mama's story, Raising Arrows, The better Mom, The Modest Mom, What Joy is Mine, Far Above Rubies, Growing Home, Heavenly Homemakers, Time Warp Wife, Thankful Homemaker, Mamal Diane, Teaching What is Good,  A cat like curiosity, Mom's the word, conerstone cofessions, A proverbs 31 wife, Some of the best things in life are mistakes, Let this mind be in you, A Wise Woman Builds her home, CSAHM Parenting Linkup, Deep Roots at Home, Graced Simplicity, Raising Homemakers, Women Living Well, Hope in Every Season, Jill's Home remedies, Little Natural Cottage, Our simple country Life, Raising Mighty Arrows, The Purposeful Mom, Consider the Lillies, Happy and Blessed Home, Homemaker by Choice, Your Thriving Family, My Joy Filled Life. New Life Steward, Hometead simple, Christian Mommy Blogger, Let this Mind Be in You, Heart Reflected
6 Responses to Power of Perception