Easton's Home Birth Story
There was extremely high anticipation for this day. This was to be not only my very first home birth but my very first unmedicated birth as well. I told very few people about our plan because this was a decision we had prayed about and felt confident in. We didn't want to feel distracted by others opinions. This has been an experience I will never forget and as I look back to write on it I cringe at the thought of the pain, but I am once again in awe of how God made our bodies to work and all of His goodness and blessings to us.
Brace yourself this post may be long winded…just as my labor was.:)
Tuesday night I went to bed at 41 weeks and 3 days. This was the longest I had ever been pregnant. As the days went on I was becoming more anxious. To say I was excited when I awoke to contractions around 1 am would be an understatement. Through the excitement I tried to sleep longer. I awoke Tim around 2 am and told him I thought this was it. He popped up just as excited as I was and began to time a few contractions. They were not very painful but were 3-5 minutes apart. We decided to walk around downstairs and see if they became stronger. They stayed about the same so  I went ahead and gave my midwife the heads up. We then dozed on and off on the couch while watching some old "Friends" episodes my friend Michelle from work let me borrow:)
My midwife arrived around 6am and I was still pumped and ready to get the show on the road. Unfortunately, when she showed up my contractions grew further apart. She assured me this was normal and they would pick back up soon. My mom came around 7:30 to pick up the other kiddos who were very excited. I told them that baby Easton would see them that  afternoon. Little did I know the long day and night ahead of me! Once the kids got out the door Tim and I went on a walk to get labor going. That is an awesome memory of us walking hand hand knowing our baby was on the way.
Let me tell ya I was one determined girl! I power waked up hill through contractions, would get to the bottom, then do it again. When we got back home I climbed my stairs 10 times. I walked and walked and walked… Not knowing the long road I was in for I burned up a lot of precious energy.
Around 11 am we decided to rest for awhile through my contractions. At this point I am still waiting for things to pick up. I remember telling them that I was ready for the intensity! (Oh my I was stupid). I knew the harder it got, the closer I was to the end and seeing my baby. We continued to walk, watch TV, laugh, and snack. Quite fun actually…
I was still feeling so great I was wondering if I had made any progress at all. She checked me and I was 6 cm! I was so excited to hear that! Hear I was no epidural, and was a 6! Glad I didn't know how much loner I had! I had been warned that knowing how many centimeters you were could fool ya.
Around 3:45 contractions were getting more painful but still very tolerable. We decided to run a few errands close to home. What??? This made me love home birth! The freedom was amazing! So away we went. We picked up Tim's lawn mower blades at the local shop, went to a little diner, then to DAIRY QUEEN for ice cream! Oh yeah! Once we left there I was ready to get home because I couldn't fake it thought the contractions anymore. (People were starting to stare) I was scared someone might call 911, and I wasn't about to get in any ambulance!
When we got back we went on yet another walk. They are still 5 minutes apart but are definitely getting stronger. I keep wondering when the intensity would come. I was starting to grow impatient. I assumed my baby wold have been there by then.
From 9 pm to about 5:30am I labored. I tried to sleep only to awaken to the jolt of a strong contraction. I walked, squatted, got in every position possible to work the baby down. Contractions were very painful at this point and I was doubting my body and wondered if it would ever turn the corner. I was deeply frustrated and knew very soon the sun would be up again.
The Breaking Point
Around 5 am I made up my mind. Enough is enough! This baby is never coming, I am exhausted, I am in agony, I am going to the hospital! I'll drive myself! I told Tim to grab my contacts case and glasses and meet me downstairs. I was NOT having another contraction in this house…well that didn't last long.
I confronted my midwives. They were sooo understanding as I have now been up for well over 24 hours. They talked me into letting them check me again before I made the decision. I reluctantly agreed with Tim's support. To my surprise I was at a 10 with no urge to push! There is no telling how long I had been that way. We are now assuming that he is in a funny position and that is the reason I have had no urge to push.
This is the part that pains me to type. I pushed for 4 more hours. His positioning was not helping all of my efforts.
Finally, with the strength of only God and my husband I pushed out an amazing human being who came out face up, looking at the world, and screaming. The world stopped. My heart became flooded with a sacrificial love that nothing can compare. Tim who was behind me had tears streaming down his cheeks. We did it! I will never forget that moment. Even typing this out and remembering every detail of pain 4 days later I can say it was so worth it.  I am so thankful to everyone for their support, prayers, and encouragement as Tim and I set off on this journey of the unknown of natural home births.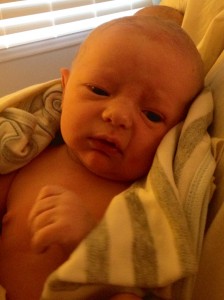 Of course I can't write about all of this without a section being contributed to my husband and what this experience has done for our marriage. His strong support through my most painful memories and fears is the most amazing thing I have ever felt. I can't really even put into words the new-found respect  we have for each other and for life. It truly is a beautiful thing. It is amazing how God orchestrated childbirth to give you all of the different emotions wrapped up in one life changing experience.
God is good!
Sharing this with: The Prairie Homestead,  A Mama's story, Raising Arrows, The Modest Mom, What Joy is Mine, Growing Home, Time Warp Wife, Thankful Homemaker, Mamal Diane, Teaching What is Good,  Mom's the word, conerstone cofessions, A proverbs 31 wife, Some of the best things in life are mistakes, Let this mind be in you, A Wise Woman Builds her home, Deep Roots at Home, Graced Simplicity, Raising Homemakers, Women Living Well, Hope in Every Season, Jill's Home remedies, Little Natural Cottage, Our simple country Life, Raising Mighty Arrows, The Purposeful Mom, Happy and Blessed Home, Homemaker by Choice, Your Thriving Family, My Joy Filled Life. New Life Steward, Hometead simple, Let this Mind Be in You,

21 Responses to Easton's Home Birth Story