Sisters…A Force To Be Reckoned
Let me tell you about these two.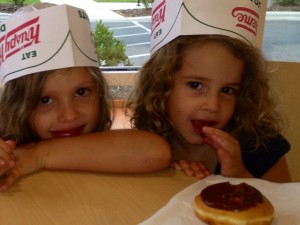 July 24th 2014
They are a set of inseparable best friends. They stay up way past bedtime every night sharing giggles in their room. They wake up early together with ideas and schemes for tea parties and something new to celebrate that day. They color together, swing on the swing set together, run through the sprinkler together, eat together, watch movies together, and usually try to drive me crazy together:) There is a bond there that will never be broken.
I am confident in the fact that satan will always try to tear up this dynamic duo. But I know a God that is stronger and He knows my prayer to mend their hearts together to achieve great and mighty things in His name.
Well, yesterday satan got a smack down…
As I watched from a far at 7:30 in the morning, still in their pajamas, on our living room couch, Willow led Zoe to the Lord.
I had the blessing and privilege to see them looking through their picture Bible together. I saw two little heads bowed with eyes closed as Zoe repeated the sinners prayer after her big sister.
Soon after that Zoe told me that Jesus IS in her heart, and that she believes He died on the cross for her so she could go to heaven:)
These two girls now have a spiritual bond that with God can move mountains. The devil better look out because these sisters are a force to be reckoned with. They have a praying Momma and Daddy behind them and the spirit of the Lord inside them.
3 John 1:4 I have no greater joy than to hear that my children walk in truth…
2 Responses to Sisters…A Force To Be Reckoned