Why I Want You To Home School Too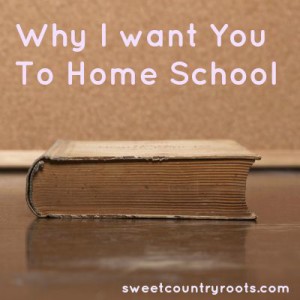 Photo by Adamr/freedigitalphotos.net
It's no surprise that I'm super excited about home schooling. My passion only continues to grow as time passes.
As I get into my homeschooling groove I notice it has a language all on its own. There are styles, techniques, and numerous types. The reasons are as diverse as the mommas. You've got the footloose and fancy free kind, the militant, and everything in between.
We have freedom to be any flavor of home school we like. Its great! But…I confess that I have a hard time talking mommas into taking the leap.
It's easy to talk people into doing something easy, assuring them its a shortcut to something else, or will give them more free time.
Unfortunately, I would be lying through my teeth If I were to tell you that were true with homeschooling. It's not always easy, there are some short cuts but they aren't worth taking, and your free time will dwindle exponentially.
But, Oh my goodness the joys that come along with it are more to count. The reading aloud, the inside jokes, the curiosity, the first words read, the walks. You get to be there for it all, a front row seat.
So that's why I say to do it, give it a try! You wont regret it. The memories, the creations, and yes even the frustrations are worth it. I want you to experience and see the blessing for yourself. Walk down the road of discovery, let them watch you live life and see what it's all about. Don't miss out!
There is no right or wrong way to go about it. You get to adjust it for your family and dive in whenever you see fit. No, you don't have to wear a jumper or scrunchie in your hair. But you certainly could if you wanted:)
What would you say to all those mommas on the fence? Subscribe and share! Join us on Facebook and Pinterest!
3 Responses to Why I Want You To Home School Too