The Great Homeschool Sacrifice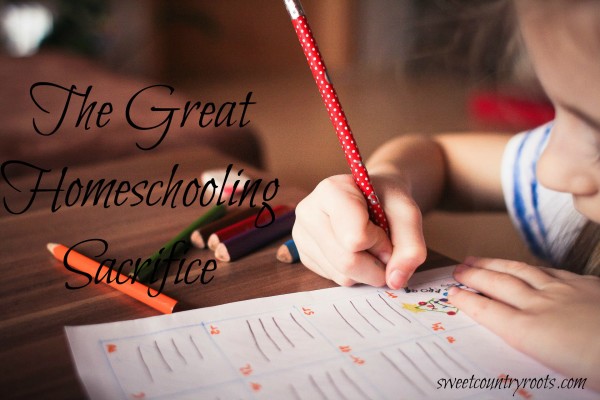 The older my children get the better we settle into our homeschooling selves. My oldest has conquered reading and is adding multiple digits, so I feel as though I have a couple of accomplishments under my belt for the other children down the line.
I gotta be honest, I am still  in a great struggle over here. My struggles seem to take turns jumping from different areas. Lately, it is the struggle of sacrifice that has taken front and center.
The time it takes me to homeschool I could have cleaned the entire house, written several blog post, read a couple of chapters out of my stack of books, tweazed my crazy eyebrows, painted my toenails, or could finally paint that wall I've been trying to get to.
The instant and delayed gratification are in a tug of war within my heart.
I believe with all of my heart that homeschooling is best for our family and is an endeavour worth pursuing.  However, my tunnel vision often starts to look around me as I feel the heart flutters of panick settle in.
What do I do? I start to blow up balloons for my pity party. I typically want everyone to come with pats on the back and words of affirmation. I know its terrible, I feel so ugly writing it, but its real!
Throughout all of my cycles of pity parties to sheer focus, the Lord continuously pulls me to Him guiding me every quivery step of the way.
Homeschooling is a lot like Peter walking on the water to meet Jesus. He puts one scary step in front of the other. All he has is faith and Jesus. His eyes are focused on the One and Only capable. He thinks… I'm walking on water! Look at me! This is Great! While Jesus's loving eyes were fixated on Peter He never faltered, never told him to slow down or take it easy, but encouraged him on the faith-filled journey of his life with footsteps on top of water.
Like most of us, Peter looked around and panicked. As he was sacrificing his very life He cried, "Lord help me!" and there it was the hand. The hand that pulled Peter out of the now sinking water is the same hand that pulls us up from the pity party.
We too may feel as though we are sacrificing our life, we can't breathe, feel trapped, and feel like we are sinking.
For all those like me who tend to pull out the streamers for the pity party every month or so, I encourage you to fixate your eyes on Jesus! He is calling us out on the waters so let's go. Can you imagine if Peter said ,"Nah, I've got some things I need to take care of on this boat over here maybe next time. " What a terrible story it would have been. Let Jesus make your story beautiful. The sacrifice is part of the miracle.
Are you struggling with something you need to hand over to Jesus? Subscribe and share!
Photo credit pixabay
4 Responses to The Great Homeschool Sacrifice