Are You Having More Kids?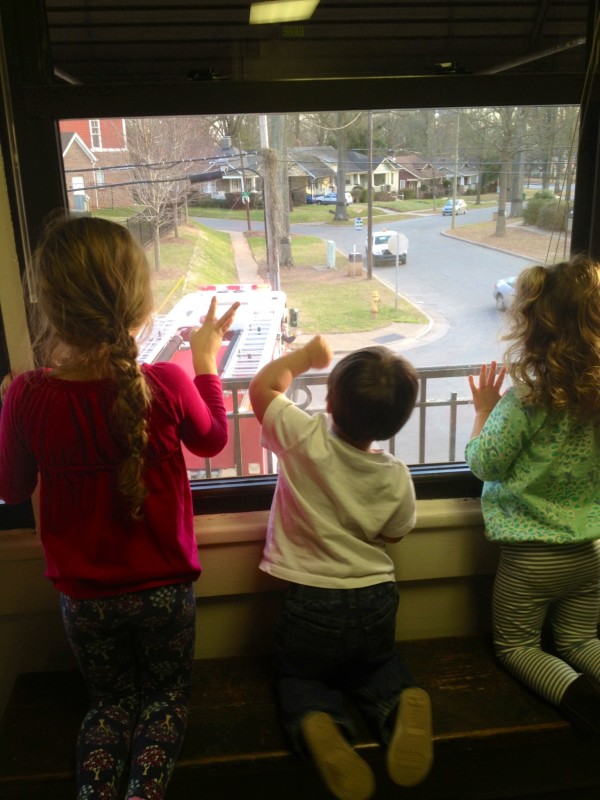 Visiting Daddy at the firestation.
Disclaimer: The intentions of this post are not to point a finger at those who have decided to no longer have children. I simply want to spin things around, even for a moment, to make you think hmmm???
Ahh… The question of my life recently. "Are you having any more kids?" Such a loaded question.
To all those who ask this question, which is basically everyone, I do not take offense. I understand that this has become a normal question in our society and I'm okay with that, heck I'm sure I've asked it myself.
Although this is a normal question, rather you desire a large family or not, it's quite odd. There are many questions wrapped up in one. The first, "So when are you going to stop your bodies natural function?" The second, "Is your husband going to start wearing condoms or are you going to start taking hormones to stop your reproduction?" -sorry to be so blunt, but in actuality that IS the question.
Imagine the look in their eyes when you say, "Yes I hope so!" I honestly don't think people ever expect to hear that answer. They have always looked shocked with their mouth wide open.
My question is… "Why do people stop having children?" Some of my many questions wrapped up in one really say, "Why are people stopping a natural function of their body, what it was made to do?"  "Why do people put hormones in their body?"
The issue lies in our cultural views on children. To call me crazy for letting my body do it's thing and to call it normal to pump hormones in your body just doesn't make sense to me. If this is the choice people want to make then that is fine. But for others to feel the need to explain to me how sex happens, or that I need to watch tv, or tell me I'm crazy just doesn't seem right. Most of the time it's the strangers who want to make their opinions of my wierdness made known to me. I would never tell anyone they were crazy for using birth control and preventing pregnancy.  Of course I feel that letting God bless you with children as He sees fit is the best way to go, but to make someone else feel less than because they are not having more children is not my place. Just as others insisting I stop having children is not their place.
I really hope this can shed some light on some of the backward thinking in our society. I used to think the exact same way! When I started to feel the conviction to let go of my fertility to God I still thought I was crazy. Over time, I no longer feel that way. Today it feels normal, right, and what I was made to do thanks to the grace of God for changing my views 100% on children.
How about you? Do you have any convictions that people call you crazy for? Are you starting to not care as much about the crazy comments like me? Subscribe and Share!
44 Responses to Are You Having More Kids?