Lessons Learned From 3 to 4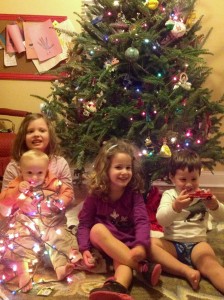 With each child we are blessed with comes a new appreciation for life that is even greater than the one before. You learn how temporary every stage of life is. We look forward to the next, yet try to soak in the present, seeing like never before how this sweet time is slipping through our fingers.
The peace that follows when we trust God to give life when He sees fit is indescribable. Peace also means freedom. Freedom from laws or the philosophy and opinions of this world that states children are aggravations, financial burdens, and are a strain on marriage.
When you seek the Lord, the opposite is true.
Each child brings on a different perspective. Suddenly the night-time feedings aren't a big deal. Fingerprints and messes mean that they are having fun. Quiet time interruptions become opportunities. Contentment is found in a cup of coffee drank slowly. Friday nights at home, filled with laughter, are chosen over any other place in the world. You might catch them with their winter hat on in summer…mismatched socks in winter…with shoes on the wrong feet…and I don't care anymore:) Date nights start becoming priority. A disorganized, non crafty girl, like myself slowly finds her groove on how to keep things running smoothly (Most days anyways).
The different perspectives are not only about life, but of my complete ugly selfishness. I see my impatience, my laziness, and my lack of self-control.
These children bring out the absolute worst in me only to show my absolute need for a Savior. They push me to my knees seeking forgiveness and wisdom daily.
Never in my life have I needed Jesus so much to teach me what sacrificial love truly is all about, He is the author of it. Just when I think I can't do it anymore and I have no more left to give, He is there replenishing me and sharpening my vision toward eternity.
This is why I believe and trust in God's plan no matter what it may be. I know without a doubt, it is all used to bring me closer to Him. That is exactly where I want to be.
Where does God have you today in order to pull you in closer to Him?
Sharing this with: The Prairie Homestead,  A Mama's story, Raising Arrows, The Modest Mom, What Joy is Mine, Growing Home, Time Warp Wife, Thankful Homemaker, Mamal Diane, Teaching What is Good,  Mom's the word, conerstone cofessions, A proverbs 31 wife, Some of the best things in life are mistakes, Let this mind be in you, A Wise Woman Builds her home, Deep Roots at Home, Graced Simplicity, Raising Homemakers, Women Living Well, Hope in Every Season, Jill's Home remedies, Little Natural Cottage, Our simple country Life, Raising Mighty Arrows, The Purposeful Mom, Happy and Blessed Home, Homemaker by Choice, Your Thriving Family, My Joy Filled Life. New Life Steward, Hometead simple, Let this Mind Be in You,

2 Responses to Lessons Learned From 3 to 4