When Your Heart Is Broken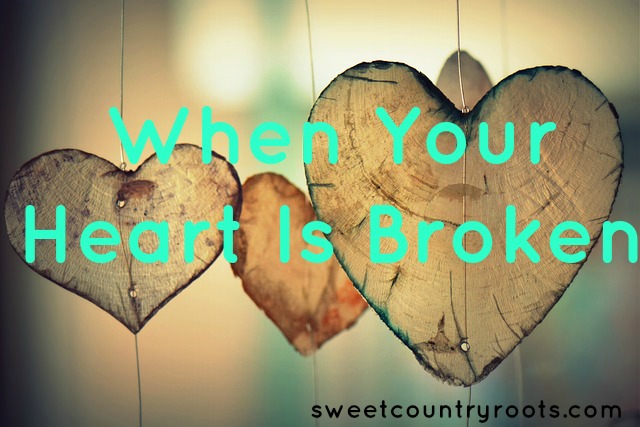 My heart aches, it's broken. I'm watching it again. Watching a precious family torn to bits by the devastation of separation and divorce. It never ceases to amaze me how deep and far spread the impact entangles itself. It's like a cancer multiplying, killing, and bringing dysfunction to a life-giving sacrament.
This is satan's work at it's finest. Finding the weak spots and holes then filling it with lies and deceit. He finds his victory in our tears. He is giving a standing ovation every time a door is slammed and names are called. His hands are clapping as children watch and listen from the other room. He chuckles as lives crumble into a heap of all the other mess he has created around the world.
We have to hate it. Hate it all. Hate divorce, all things contributing, and all things promoting. We are in a battlefield.
We have to fight for the beauty. The beauty of struggles, but sticking it out anyway. The beauty of the entwining of imperfect lives in need of a savior. The beauty of sacrifice and unconditional love. The beauty of a promise kept even when times are tough.
We have to love. Love it all. Love the commitment, all things contributing, and all things promoting.
I believe in restoration and healing. This is God's business. The most impossible situations can rise from the ashes into a spring of love, hope, and determination. I believe in God's blueprints for life and marriage. I know that when followed, they flourish. I believe it's all worth it. I believe we must fight and be on guard. I believe we have to stay on our knees asking God to protect our marriage and families.
A wise woman once said, "Make your sweet memories now so they can help carry you through the hard seasons of marriage."
When times get tough, use the ammunition of your sweetest memories. Let's always remember the times you both laughed so hard you cried. Remember the day your first baby was placed in your arms. Don't forget all of the burnt dinners, the walks, and the falling asleep on the couch. Remember how many times the alarm clock would ring until you kicked him to turn it off. Don't forget the anniversaries, the new house, the endless home projects, the long overdue date nights, the accomplishment of surviving your baby's first year, the promotions, the answered prayers, the friendships… Make your own list and add to it frequently.
Reflect on your list, fan the flame, love with all your might, and pray like there is no tomorrow.
Have you ever had your heart break as you sat on the sidelines watching? Please subscribe and share what you think!
Photo credit pixabay
3 Responses to When Your Heart Is Broken