Against The Grain (Debt)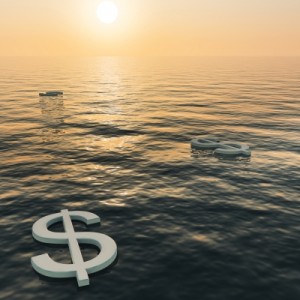 Photo Courtesy of Stuart Miles/ Free Digital Photos
This post is intended to be an encouragement for people to get out of debt along with our story that has led us to seek this lifestyle so passionately. None of this is to brag, but is to show how with God's help you too can go against the grain and be weird…be debt free.
When we were first married neither of us had any debt to our name. We were only 18, neither of us owned anything. Before we said, "I do," the only things we paid for was our gas, food that we ate out, and other things we wanted (Not needed). When my husband was 16 his dad purchased him an old car and my parents did the same. When we got married we added on a rent payment of 600 a month for our one bedroom apartment plus all of our food, groceries, and utilities. I was just starting nursing school and working part-time while my husband was working for the city utilities department at the time. Our total income was around 18,000 a year! We have never been the kind of people who just blow money for fear we would end up like a lot of people around us. I can remember sitting at our little kitchen table debating on if we should use our coupon that night to go out to dinner or wait for a special occasion. It was a big jump for two eighteen year olds who had  only lived with their parents, but we were determined to make it work.
Fast Forward 3 years later…
We bought our first home about an hour away from family since it was cheaper for 85,000. Our payments increased to 660 a month. Not too much of a jump from our rental, plus we had our privacy. It was the cutest little house on an acre you would ever see. My husband now works at the fire department with a slight increase in pay and I finally graduated nursing school. We paid my way through school using grants and by using money we saved up while we were in high school. The  month I graduated was the month we literally had zero in our savings account. It was the perfect amount to get me through my education. Praise God!
Once I graduated our money coming in doubled. Like most people who have a big jump in their money we yelled, "We are rich, we are rich!"  We went and bought a bunch of stuff we had felt deprived of and added to our monthly payments. Then, like most people, we started saying, "Crap, we are broke!" Ironic how easily that happens! We went and bought me a (new to us, but used) car racking up 15,000 in debt. We bought my husband a truck racking up another 10,000 in debt. We then took out a loan for some family members for a total of another 9,000 in debt. This simple life we used to have with half the money was gone. We now had accumulated over 30,000 in debt within the course of 6 months in the blink of an eye.
The crazy thing is that was all normal! It's what you do. There were people congratulating us and giving us pats on the back. You upgrade, you buy cars, nicer dinners, nicer houses, better everything because we feel some type of entitlement or that we have earned it somehow. We end up only hurting ourselves and adding to stress in our lives. You can't tell me satan isn't behind all of this, and loves to sit back and watch it happen.
Thankfully, God showed up and gave us a wake up call.
We haven't always done perfectly and we have many regrets on things we wish we had done differently, but we have made progress and now have a God-given vision that can't be shaken.
I was about 6 months pregnant with our first child when my husband started talking to this guy at his fire station about money. The guy taught a financial peace course by Dave Ramsey. Neither one of us had ever heard of the guy so Tim began to ask question. It was all so simple and eye-opening at the same time. Knowledge that was all common sense that gets lost in our world of materialism. Every day he would tell me more about what he had learned. The man let us borrow his book that laid out the ground work for this simple yet effective plan to get out of debt and stay that way. We read everything we could, listened to his CD's, and began to practice everything Dave Ramsey preached.
First step was to get 1,000 in our emergency fund. You would think that would have been simple, but with all of our bills we created it wasn't easy. We were motivated beyond belief, we talked and breathed it, we discovered something new!! Dave Ramsey's philosophy behind this is to have it there for  just in case stuff happens. It's a given that things will break so just go ahead and be ready. Second step was to knock out our debts smallest to largest. Don't worry about interest rates. His idea behind this is to get your momentum going. You want to start sledging a way at your debt iceberg as quickly and efficiently as possible. For us, this was the 9,000 we lent to some family. Wasn't looking like we were going to get it back, so away we went. Instead of paying the minimum we took every single extra penny we could out of our budget and put it toward that debt. Before our baby girl was born we had it paid off. What a feeling!! Needless to say we were addicted:) We then took what we were paying on the family debt and put that on top of our minimum payments for the 10,000 truck. Our momentum was in full swing. Once that was paid off we worked on my car using the family debt payment, plus the old truck payment, and the minimum on my car all down every month. We flew through that debt quickly! The freedom that came the day we sent our last payment in was indescribable. We wanted to share our news with everyone and show them that they could do this too.
Not too long after…
baby number two was on the way. We decided we needed to move to be closer to family for our children. We then began to think like the rest of America again. We assumed I would always be working and that we would stay in our next house forever. We began to think a little to highly of ourselves and think we deserved bigger and better. Unfortunately, we took the world's advice and went from our 85,000 dollar house to one for 185,000. Oh just typing that out makes me sick! We made some money off of our house and we were able to put down a decent down payment. We got a 15 year loan at an awesome interest rate and went from paying 660 to 1300! Our budget did allow for this, but remember I am still working a lot, and we went into another 100,0000 in debt by moving into this house. Don't get me wrong, I love this house but little did we know all the ways God was going to speak to us. We didn't know he was going to give us two more children with hopefully more. We didn't know that He was going to want me to stay home and lose over half of my income. We must be ready for the opportunities God wants us to jump on.
Here we are today…
We have been able to remain debt free except the house, we put extra money in retirement, and have a little bit going into an account for the children, then whatever money is left we have been throwing at our mortgage. I have cut back on work significantly as my husband tries to pick up extra work any where he can to make the difference. We sacrifice a lot for the wants we have, but God has ALWAYS taken care of our needs.
I put all of this out there to say that I am fully aware that there are many people who have it a lot worse off than u,s and some who are better off than us. Whatever situation you find yourself in it's never too late to go against the grain and get yourself out of debt. It's not the way we were intended to live PERIOD.We all make financial mistakes, but when we commit our plan to God to live the way He wants possibilities will open to get out from under the debt slave feeling. It may not be easy and may not happen overnight but the point is to start. God will bless your efforts.
What's your story? Tired of going with the norm and ready to break free and go against the grain with me? Subscribe and share!
Here are my other Going Against The Grain Series:
Going Against The Grain (Birth Control)
Going Against The Grain (Industrialized Food)
Sharing this with: The Prairie Homestead,  A Mama's story, Raising Arrows, The Modest Mom, What Joy is Mine, Growing Home, Time Warp Wife, Thankful Homemaker, Mamal Diane, Teaching What is Good,  Mom's the word, A proverbs 31 wife, Some of the best things in life are mistakes, Let this mind be in you, A Wise Woman Builds her home, Deep Roots at Home, Graced Simplicity, Raising Homemakers, Hope in Every Season, Jill's Home remedies,  Our simple country Life, Raising Mighty Arrows, The Purposeful Mom, Happy and Blessed Home,  My Joy Filled Life. New Life Steward, Hometead simple, 

4 Responses to Against The Grain (Debt)