Against The Grain (Birth Control)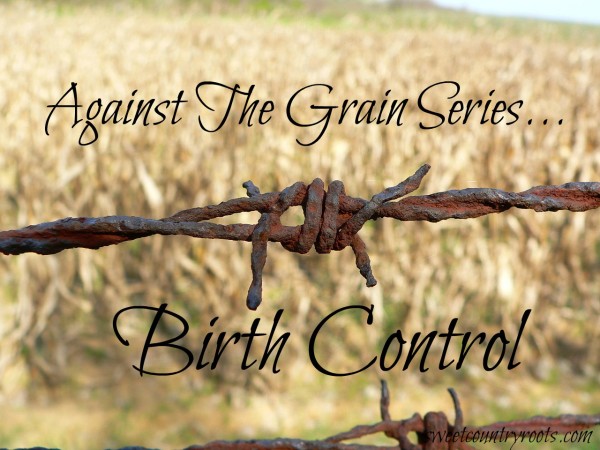 Are any of you the, "Going against the grain kind of people," like me? As a teenager many people referred to me as rebellious. I can see why they would say that:) As  I look back over my life I can see God's hand in my rebellion. He gave me that stubborn personality to go against the grain at times…well, most of the time. I used to feel guilty about always bucking the system and wondered why I couldn't just be like everyone else.
A truth I have slowly started to process is that we all aren't supposed to be the same. There are some systems that are meant to be questioned, bucked, and rebelled against altogether. This blog is an outlet for me to raise awareness about things we go along with every day and test them to see if we are really making progress.
One issue that is near and dear to my heart that God revealed to me almost two years ago was the value we place on life. I think most Christians would agree that abortion is wrong. We get in an uproar when the Roe vs. Wade anniversary comes around. We rally and give opinions, which are all great. But…what about birth control?  When we question this normal practice the facts are clear to see that they are abortifacients in themselves. We get statistics on the amount of abortions every year, but what about all of the chemical ones that go unknown because our bodies are having a heavier period than usual due to our birth control method?
When I found out this information I was floored!
The majority of birth control methods including the pill, IUD, the patch, and Depo Provera all effect the lining of the uterus enabling the newly fertilized egg to implant thus it is starved and dies. Of course the birth control industry denies that their product can cause an abortion because of their definition of when life begins. To them it begins once implantation occurs.
This is simply not true.
When the egg and sperm unite (fertilization) is when life begins. When they meet, immediately there is a genetically different human being than the parents. It is ridiculous how they try to over analyze the definition of life. This is not discussed in our OB/GYN offices. I could have ignorantly killed children all because I was going with the norm. I blame a lot of this on being uneducated. I hate to use it as an excuse, but it is the only one I have for the reason I was on the pill and IUD for so long. You get married, get on birth control, and have sex. No questions asked, it's just what you do. WE MUST START ASKING OURSELVES QUESTIONS. When we can line up our decisions with God's word then that will open up the door for other people to ask. No need to force anything in their face, but offer information and let God do the rest.
Another reason why this means so much to me is the fact that many of  women's cancers along with other health issues have stemmed from the use of birth control. There are many lawsuits going on right now against some of the birth control companies. When we mess with our body's natural, God-given design we are bound to run in to problems.
Whenever you go on a new type of birth control you are taking hormones. When we start to complain of headaches, fatigue, breast tenderness, break through bleeding, nausea, and decreased sex drive our doctors tell us this is normal and if it doesn't go away after a few weeks then we can try a new kind.
What? Why aren't we concerned about this?
We fuss over hormones in our chicken, but are rarely upset over the hormones we take in our bodies to prevent babies. Birth control has been linked to blood clots, stroke, heart attack, glaucoma, breast cancer, and many other health risk. It is a known scientific fact that women who have a baby, breast feed, then get pregnant again significantly drop their risk for cancers. This is due to the fact that the estrogen in our body is reduced because we have fewer menstrual cycles. Birth control contains estrogen and progesterone.  Is the prevention of children worth the risk of our health?
On to sexual intimacy. No wonder most women never want to have sex! (Don't mean to be so blunt) The birth control methods out there mess your hormones all up. God made our bodies so that when ovulation occurs you and your husband are more sexually attracted to each other than other times of the month. Why? We were made to reproduce. But what if we stop that ovulation process or keep normal acting hormones at bay? We are missing out ladies on that intense desire that happens for our husbands at that time. How fair is that?
The list goes on and on about the dangers of these contraceptives, but it is the norm. It is reported that 4 out of every 5 women who have sex have been on some type of  hormonal birth control at some point in their life. In fact, people assume you are crazy and weird if you don't use any and let nature do it's thing. Let me tell ya from experience, ever since I stopped using birth control over two years ago my body has never felt better and I have never felt more free.
Am I making you raise an eyebrow? I encourage you to do your own research about the exact mechanism of the contraceptives we use every day. You may find yourself very surprised at  how pregnancy is prevented, and all of the side effects we deem normal.
Go against the grain with me! Are there topics that you rebel against? Subscribe and share! I am planning on making a series about all kinds of topics God has prompted me to question;)
Against The Grain Series
Against The Grain (Pharmaceuticals)
Against The Grain (Industrialized Food System)
Photo credit Pixabay
56 Responses to Against The Grain (Birth Control)