Against the Grain (Feminism)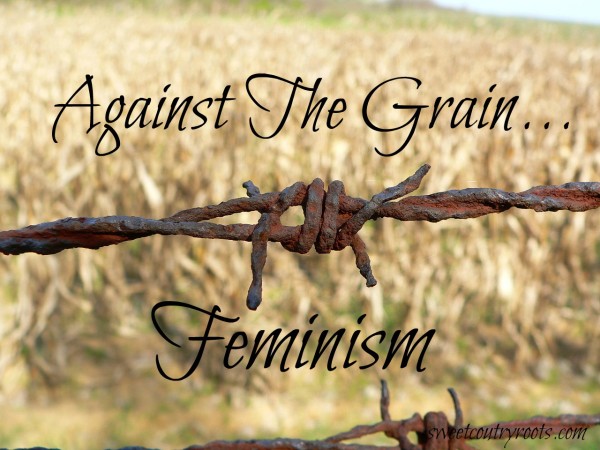 I am fully prepared for some backlash on this post. My only request is that you read it with an open mind and consider alternatives to what has been put in our face on a daily basis.
What if we as a society of women became truly submissive to our husband and families? We know that this is what the Bible says and God only wants what is best for us. Is it true that we can really be happier and get something out of this too besides our husbands and families?
Over my yeas of marriage and having children I have become more and more passionate about the subject of our roles as women. I have found that the more I try to mimic how a woman in the Bible is supposed to act that is when I have been most happiest and fulfilled. The idea of submissiveness goes completely against society. I have seen the benefit from it and that makes me want to share with others this radical viewpoint in hopes someone else can feel the same peace and fulfillment as their role of a woman the way God intended it.
The definition of submission is to unresistingly and humbly serve others. For me the key word is unresistingly. How often do we here of women today who are resisting the type of label such as the cook, the cleaner, homemaker, or the one who takes care of the kids etc… We resist because we deem it unimportant. The opposite is true. It's not only about submitting to our families but to our God-given roles and not resisting. No wonder there are so many unhappy women today. Any one who is in a constant state of resistance is bound to feel frustrated.
Let's take a look at submission as a woman for her family in action. She is a nurturer, caregiver, and the rock where her family can find rest. When she is in her role (if married to a Christian God-fearing man) he will treat her above all others because of how well he and his children have been taking care of. Ladies, that is what is in it for us. We give and empty ourselves out on a daily basis only to be refilled by a well taken care of husband, children, and therefore we all glorify God. A submissive woman is NOT a doormat. She is strong and takes care of her household in ways no-one else can. Is it always easy? Nope, but that is what keeps us calling on the name of the Lord.
Lets take a look at the typical woman today. She is out working outside of the home. She and her husband share an equal partnership of household chores, cooking, and taking care of the children. This can seem all fine and dandy but what if the other isn't taking up their end? It's usually not the people at work that suffer, it's family life that suffers. That is exactly where satan wants us. Before my husband and I had children this was the way we were. I thought at the time that it worked perfectly and that it was the way marriage should be. Looking back it seems there was always something that wasn't being done or taken care of assuming the other one was going to do it. There was confusion. God isn't a God of confusion. He is a God of order and efficiency.
There should be eyes on the home front at all times protecting it. Homes are being shattered all around us and I strongly believe it is because we have lost the art as woman of making it a priority. Let's get back to what true feminism really is. Not the kind where we burn our bras, but we burn the mentality that there is any job more important than building up our homes.
I want to be the backbone, the pillar, and the soft place to land. Yes, I want to be the cook, the cleaner, and the teacher. I want to be that hug, that smile, and the eyes that says everything is ok. I want to be the protector standing with guns loaded against the wiles of the devil that seeks to destroy my family. I want to be the hands, the heart, and the confidence of Christ.
Who is with me? Let's start a new feminist movement! Subscribe and share!
Here are my other Going Against The Grain Series:
Going Against The Grain (Birth Control)
Going Against The Grain (Industrialized Food)
Going Against The Grain (Debt)
Photo credit Pixabay
18 Responses to Against the Grain (Feminism)