Why I Hope My Children Marry Young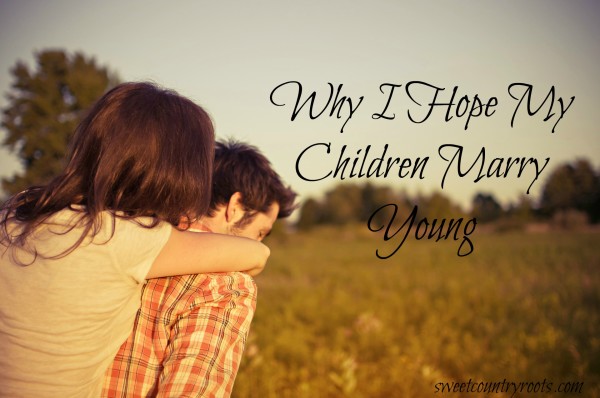 I was in my chiropractor's office when he asked how old my husband and I were when we got married. I told him we were at the young age of 18 years old. I could sense relief in his voice as he went on to explain the reason he was asking. His oldest son is 2o and his new bride is 17. They were just married last month. He explained how he encouraged his son to wait until he was through with college, but all his son would say was, "Why wait Dad?"  He went on to say that his son and new wife had no idea what they were doing.
I'm sure this sounds crazy, but I truly believe that them not knowing what they are doing is an awesome thing…they shouldn't know what they are doing. That is the point, to figure it out together.  To fully rely on each other is such a beautiful thing. No strings attached, no remembrance of what single life was like. I believe that God wants His people to marry and bear children.
It is the perfect example and picture of God's relationship with the church. We often get caught up in the details of when someone is "ready" to get married.  There is no "ready" and there is no "knowing what you're doing." It is about relying on God, cleaving to your spouse, making memories, and figuring out all of the fun stuff and the hard stuff.
Our worldly perspective has it all wrong about the criteria one must meet before marriage and what makes it successful. According to custom, I should be between 25 and 28 years old before I marry. This would give me time for my four-year degree, a good year or so to find my dream job, then another five years to aggressively pursue my career and explore who I am.  Once all these are in place, society tells me it's okay to get married. I am told to have the most expensive wedding you can, after all it's your day. You've worked hard all these years, you deserve it. The common problem here is that it's all about the individual. (This isn't all couples. I am making a generalization of the world.)
Take the opposite. This would be looked down upon. Two people brand new to adult hood, just finished high school, living at home, decide to get married. They have no money to their name, no successful career to fall back on, no bank accounts (except an envelope), or time to figure themselves out. They jump in and hold tightly to each other in this new territory. Sink or swim as they figure out a budget, how to cook, how to do laundry, how to get good paying jobs, and how to love each other. The world sees this as ignorant and irresponsible. What God joins together He says is good…end of story…
As my children grow up I don't ever want to follow the normal trend of how we speak to them about marriage. I want it to be about God's perfect timing, not ours. I want to teach them to always be ready for the next step God wants them to take in full obedience, even if the rest of the world thinks they are crazy. My husband and I will have their back and watch from afar as they enter into one of the greatest relationships God created.
What about you? Would you want your children to marry young?
photo credit by Pixabay
32 Responses to Why I Hope My Children Marry Young